A Lemon Squeezy Home--I Brake for Birds
I knew as soon as I read about the leading lady challenge that I would choose Zooey Deschanel for my inspiration. I just love her style
so
much. I love the modesty, the retro feel, and how girly her style is. It's classy, timeless, and completely wearable. I simply adore it! Zooey most often plays a supporting actress role but there are a few she gets to shine in as the lead. I especially loved her in 500 Days of Summer.
For the dress I used
Simplicity 2444
. The pattern doesn't include a lining but I did fully line it because of the light color of my linen blend fabric for the dress. I lined the bodice first and had the dress nearly finished. I was just going to wear a slip for the skirt portion of the dress but you could see the pockets through the skirt, unfortunately. I debated on taking out the pockets for about 2.5 seconds and quickly dismissed that idea. You can't get rid of pockets in a dress! So I lined the skirt portion of the dress as well. I used an invisible zipper for the back rather than a standard zipper. I didn't put in the front seam since it seemed pointless, and I had to omit the back darts on the dress so it would fit my waist, which I thankfully discovered on my muslin. My pattern went up to a size 12 and apart from the waist, I was able to stay on pattern for the rest of the sizing. I printed some bird silhouettes and cut out 15 different foam bird stamps using
THIS
tutorial, and stamped the dress with fabric paint after it was finished. I love the dress as is but toyed around with the idea of adding a peter pan collar to the dress. I wasn't fully committed to it, so decided on making a cardigan with a peter pan collar on it. I used
Andrea Pannell's
Parisian Top
as my base and turned it into a cardigan with 7 buttons and a lace collar. I love how the whole outfit turned out!
And for the record, I don't hate pantsuits ;). But I do like that quote. Check out my blog
A Lemon Squeezy Home
for more pictures!
Groovy Baby and Mama-- Carried Away
Let me start by saying that this is a mash-up. I've been inspired by not only one but two leading ladies from the movies for this outfit.
I've wanted a tulle skirt in what seems like forever. I can remember dreaming of one but never owning one as a kid, outgrowing the dream in my rebel teens and the suddenly in my late twenties/early thirties the dream was revived thanks to one fabulous and ever so stylish Miss Carrie Bradshaw (Sarah Jessica Parker) from the Sex & The City movies (and series)!!! And now, finally, in my late thirties the dream has come true! I've sewn the nude blush colored tulle skirt of my dreams. As much as I adore a big and full tulle skirt I know that the chances of me wearing one are not very high. I wanted to create a more simple and everyday look - and I think I've succeeded with this little self drafted number. An a line skirt as lining and two layers of soft tulle gathered to the lining and attached to front and back yokes. The skirt closes with an invisible side zipper. I love this flat yoke detail - it's great for us wide-hipped girls that don't need any extra fullness in that area. And I love that I can wear it with a loose hanging tee or sweatshirt.
Where Carrie would choose a nipple exposing white tank top and no bra, I opted for a more decent solution...and a bra. A simple blouse with a cute open front overlapping detail. It's made from a soft gray cotton/silk blend with tiny black butterflies. Had I not lined the front and back with a nude colored voile (same color as the skirt) I could have pulled a Carrie as the fabric is a little sheer. You can thank me later! I left the sleeves unlined. The pattern is from Burda Magazine 04/14. I will absolutely make more of these tops - they are adorable. The pattern does not include lining - and it involved some logical thinking (not my finest skill) to get it right so no seams would be visible on the inside of the garment. Note to self - don't do this late in the evening!
Finally I've made a black boxy blazer to finish my look. Carrie would definetely also wear a blazer with a tulle skirt - and so would the other girl who's inspired me for this look - the lovely Andie Walsh (portrayed by Molly Ringwald) from 'Pretty in Pink'. She rocked a look like this 20 years before Miss Bradshaw. To you young ones Jon Cryer may be Alan Harper from Two and a Half Men - but to me he'll always be Duckie from Pretty in Pink! For the blazer I used the
'Victoria' pattern from 'By Hand London'
. I shortened the lapels and angled them a bit - no other changes were made to this great pattern.
Hope you like my Carrie/Andie outfit - and be sure to visit my
blog
for more photos and info.
Sewing In No Man's Land--Your Funny Face
Hi there friends! Kelly here from
Sewing In No Mans Land
. I was so so so excited to create a look for an iconic leading lady! We need all the amazing leading ladies we can get, am I right? I immediately thought of Audrey Hepburn. Living in Paris I actually think of this talented and stunning lady often as I walk down the streets and see effects of her style still rippling through the city. I also absolutely adore her costuming as Jo in the classic movie
Funny Face
. There is such an interesting history behind the costuming if you ever get a chance and love design definitely read up on it. After hmmmming and hawing about which look to go for I widdled it down to two and decided to just make them both! Her timeless black dress in the Carousel De Louvre scene (
Here
) and her capris with and trench worn by the Seine.
The LBD is a closet staple and embarrassingly enough I didn't have one before now! I did a simply hack of the fantastic Welcome to the Mouse House's Caroline dress by dropping the waist a good three inches and using a circle skirt to give it more volume and swing (which you can see in a little gif on the blog). Of course I had to have her little white gloves which were a snap and the hat was a christmas gift from good ole target.
I have been saving and saving to buy myself an ultra chic Parisian trench as my souvenir from living here, but when this challenge came along I knew I had to try my hand at making one. I wanted to add interest though and to be able to wear it with browns or blacks so I added the black piping. I absolutely love how it turned out and will now be spending my savings somewhere else! To complete the look I created a simple pair of black capri's. The fabric has GOT to have some spandex in it because they are stretchy and super super comfy (my textile french is still in its infancy so I buy mainly on feel ha!) I couldn't find a cute pair of loafers like Audrey wears in the movie so black heels it was! I did not make the turtle neck.
I hope you like my take on Funny Face and if you would like to see more fun pictures of me running around Paris like a crazy lady with weird shaped balloons hop on over to
Sewing In No Mans Land
!
Miss Crayola Creepy-- Edie Sedgwick Gone "Creepy"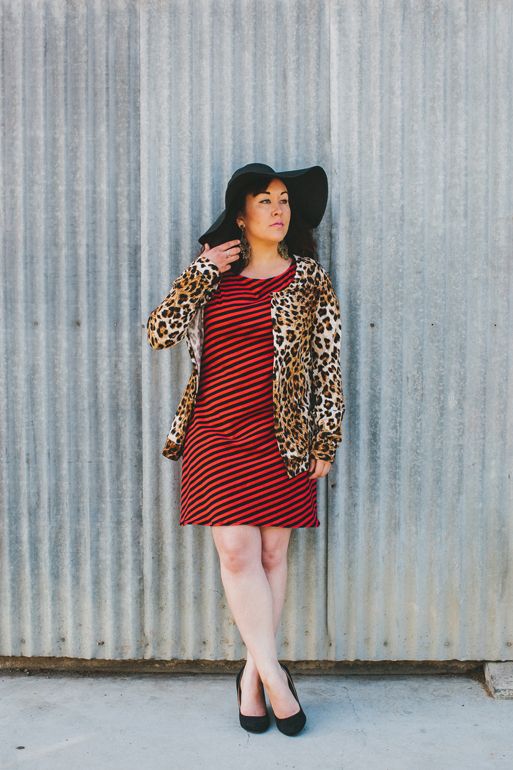 Over the past few years I have become fascinated with Edie Sedgwick, famously known as Andy Warhol's muse in the 1960s. The movie Factory Girl is based on Edie's life during that time period and is filled with amazing fashion. When this challenge was announced, I knew exactly who I wanted to emulate. Edie was known for wearing striped boatneck shirts and throughout the movie she wore a red and black striped dress with the stripe placement on a diagonal. Stripe matching is a sewing technique that I have always been "afraid" of and I never dreamed about matching stripes on a diagonal. But, hey, Project Sewn is all about pushing yourself, right?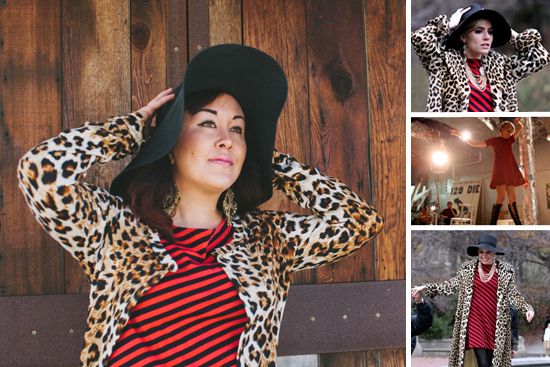 I used the
Coco
pattern for the dress and the cardigan is a modified
Renfrew
shirt, both great patterns. This was also my first time sewing a cardigan and now I feel like a whole new world has opened! Cardigans all day, every day, and in every color!
Are there any other Edie fan's out there? For more on Edie and for more photos of my outfit please check out
my blog
.
Idle Fancy--That Touch of Doris
This first challenge was such a blast to create, y'all! I grew up on classic movies, so the chance to channel one of my childhood heroes was quite exciting. After extensive deliberation, I finally chose the epitome of blonde, bubbly, 1960's style: Doris Day. Not only does Doris represent my favorite decade of fashion, but she also starred in one of my all-time favorite films, That Touch of Mink, in which she wears the most gorgeous clothes. Of course, there were plenty of Doris looks to channel for this challenge, but I chose one of her stand-by outfits: a bright, candy-colored suit and ultra-feminine blouse.
Luckily for this sewist, my mother gifted me four yards of gorgeous red-orange Chanel tweed for Christmas this past year. This fabric is amazing--drapey, thick, and amazingly soft. To pair with this fabulous color, I chose a palette of black and white for the blouse and linings, with stripes inside the suit and pin dots on the blouse. With such a mix of prints and a classic colors, it's an updated twist on the classic, vintage suit. While I used self-drafted pattern for the skirt and bow blouse, I had a ton of fun using a vintage Simplicity pattern for the jacket. Such retro, interesting instructions! My favorite part of this project, however, was the chance to bust out some tailoring techniques. The jacket is fully lined by hand, with bound buttonholes, sleeve-heads, and bias-bound edges. It was such fun to channel this fabric's heritage and indulge in some couture flourishes. I like to think Doris would be quite proud! For more photos and construction details, check out my blog,
Idle Fancy.
Cottons and Curls--Sixty's chic with a sporty modern twist
I've always been inspired by the 50s and 60s, as mostly every woman on the earth that loves to be feminine. There is something about the full skirts and heels that can really making a person feel beautiful. Hence, an homage to the decade. In particular, Sophia Loren. I found her posing few lace dresses, and I instantly had to replicate. I couldn't narrow it down to any specific movie or event, for her style is the essence of "woman". Though I'm lacking the curves the possessed, I still wanted to tackle a fuller pleated lace skirt. But with a modern twist. I decided to make this a skirt top combo and make the top a baseball tee (tutorial here, but add lace to the front panel), slipping in some lace and knit (tutorial here, make pleats 2" wide instead). I paired it with a lace pleated number with a much shorter lining to mimic the a fun sheer overlay effect. I grabbed the baseball tee
tutorial here
(but added the lace overlay) and the skirt
tutorial here
(but made the pleats 2" and added a metal zipper instead of a wrap).