Have you ever pursued an interest in sewing? If you have, then you know how important getting the right sewing machine is. Are you are simply looking to start sewing, still browsing through the sewing catalogues? You could be overwhelmed with the number of top sewing machine products you find yourself faced with. Finally, it all boils down to one final choice and, what sewing machine is best for beginners?
No need to worry about where to find the best sewing machines though, there are a number of available sewing machines to suit everyone's needs. I will tell you about the best sewing machines as you read on.
Sewing Machines- Why You Must Get One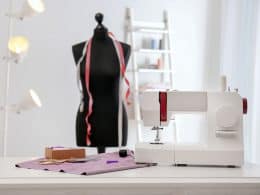 No doubt you have seen a sewing machine at some point in your life, maybe even known someone who owned one, or used one yourself. Sewing machines are as important as the name sounds; if you wish to sew, you must have one.
In former times, women and children were taught to embroider by hand and to stitch. They often grew to sew their own clothes by hand. Now, with sewing machines available, we can sew more intricate designs, in less time and with less stress.
Machines are built to take the stress of our work and sometimes they are necessary to achieve intricacy and perfection. To survive as a tailor, fashion designer or to simply sew clothes for your family and friends, you must have a sewing machine.
Most sewing machines are either manual or electric – with the electric option taking away even more of the work by removing pedalling function. Other features come with different sewing machine options but, I will talk about that later in this article.
Now, I will touch on the benefits of using a sewing machine.
The Biggest Benefits of Having a Sewing Machine
Of course, the benefits of owning a sewing machine are numerous, and the biggest are perhaps ease of use, and speed.
Having a sewing machine or learning to sew might not be among the top skills today but, it is a skill nevertheless. Due to the ever-changing trends in fashion today, there is a higher demand for clothes, fabrics and garments.
The best sewing machines are durable, indispensable, and can serve a generation for use. If you are wondering why exactly you need to get a sewing machine or learn to sew, here are some advantages of owning one;
1. You Save Money
Think about it; making your own clothes garments and your family's would save you a lot of money. Money you would have spent in stores, for over-priced clothes. You can flex your creativity muscles and create unique, original styles for yourself.
You can simply purchase some fabric and get straight to work, creating whatever styles you wish. Just think about how much cost you would cut if you sewed your own/ your family's Christmas outfits, wedding garments, and Halloween costumes. Or, the many clothes you would otherwise discard when you could simply patch back up, or mend with a simple machine.
2. Fix Torn or Outgrown Clothes
Of course, most people can make simple hand-stitches to fix up torn clothes but, it is easier with a sewing machine. The stitches would be cleaner, neater, and more likely to stay together.
Your old clothes don't have to make their way to the bin or cast away; you could adjust them to be worn by another person.
3. Earn an Income
Once you get a grasp of the basics of sewing and become proficient enough, you can extend your talents by starting a small business in garment making; or, simply mending your family and friend's clothes in exchange for some cash.
Many garment making businesses which start out small often end up growing to make a small fortune.
4. Customize your Own Clothes
The struggle of finding clothes that fit perfectly or best suit your body type is a challenge on its own. Knowing how to operate a sewing machine, you can easily style your own clothes, staying up-to-date, and on trend while still on a budget.
All you need here is the perfect fabric to suit your tailoring needs, and your time to sew the clothes.
Finding A Sewing Machine Near You
You've probably got your mind fixed on dropping everything else to buy a sewing machine right now. But, where can you buy one?
I can answer your question easily enough. Simply take out your phone, or any device with an internet connection and search for 'sewing machines near me', or 'sewing machines for sale', or any other search you think might get you good results.
The Best Sewing Machines Available for Beginners – Compared Directly
You might be pressed for time, not willing to read through the hundreds of reviews on sewing machines. So, I have made it much easier for you, with this chart comparing the very best sewing machines for beginners.
The sewing machines selected here cover a wide range of options, including which sewing machine is best for home use, and which sewing machine is best for heavy duty.
If you want a more in-depth review and have the time, you can scroll further down for more details.
Top 12 Sewing Machines for Beginners
The table above simplifies your choices in terms of weight, warranty, and dimensions. For a more in-depth look at our 12 sewing machine choices, read down below.
1. Brother CS6000i Sewing Machine
(Best Simplified Sewing Machine)

The Brother CS6000i is transportable, fast, and adaptable, making it one of the best Brother sewing machines for beginners and children. This sewing machine is a computerised sewing and quilting machine, designed to allow beginners learn quicker.
It features a load of stitch functions, is affordable, and serves well for beginners. You don't need to worry about running out of stitch options, as it comes with 60 in-built options, going at 850 stitches in just one minute. The feature allows you increase or decrease stitch sizes with the display.
For beginners who are more tech-inclined, this machine should definitely be one of your top choices. The best option for beginners is one step buttonholing, reducing misshapen buttonholes, and the CS6000i more than covers them here.
This sewing machine also comes with 9 presser feet varieties, allowing you branch out and handle more projects as you gain more experience. Another bonus is the reverse and forward sewing options, which allows for easier seams.
Pros
Availability of forward and reverse sewing
Functional LCD screen
Comes with many functions, including multiple stitch functions, and one step buttonholing
It comes at an affordable price
Cons
Light weight structure might prove difficult to master
Heavier fabrics may jam while sewing
Machine might not accept non-Brother accessories and products
2. Brother Sewing Machine, XM2701, Lightweight
(Best Lightweight Sewing Machine for Beginners 2017)

If you are a beginner looking for an affordable and durable sewing machine to enable fast learning, then the Brother XM2701 is perfect.
This machine is easy to use, and assists learners in building sewing skills fast. The Brother XM2701 model is extremely portable, making it an ideal choice for travellers. It comes with 27 built in stitches, sewing at an amazing rate of up to 800 stitches per minutes.
The sewing machine comes with extra goodies; a screwdriver, 6 sewing feet, three-piece needle set, extra spool pin, and an instructional DVD!
Pros
Ideal for smaller projects and beginners
Portable, cheap and lightweight sewing machine
Easy to use
Cons
Does not offer the best in LED lighting
Medium sewing speed unavailable
3. Singer Heavy Duty 4423 Sewing Machine
(Best Heavy Duty Sewing Machine)

No matter the level of thickness of a material, you can be sure that the Heavy Duty Singer 4423 can do the job.
It comes with astonishing features of 23 built-in stitches, a Snap-on presser feet, fully automatic one step button hole, automatic needle threader, and an added bonus of a 25 year warranty.
And in terms of speed? This machine has got you covered, sewing up to 1,100 stitches in a single minute. Presser feet needs are also not over-looked with this machine; there are four available presser feet, each to suit varying tasks. An automated needle threading systems provides convenience, speed and accuracy in threading the needle.
Pros
Good for multiple fabrics
Quick and easy to use
Practical and efficient
Heavy duty sewing machine
Varying functionality
Cons
Sensitive foot pedal
Loud motor
You may experience mechanical problems
4. Singer Quantum Stylist 9960 Sewing Machine
(Editor's Choice)

To get a more digital workspace feeling with your sewing, you might be better off choosing the Singer Quantum Stylist 9960.
This sewing machine is for the high-tech lovers who require a more automated machine. With its visual animation and alarm serving screen, onetime functional stitch selection, and one-touch automatic thread cutter and threader, this sewing machine takes almost all the stress off the users' shoulders.
The Quantum 9960 includes an impressive 600 built-in stitches, going at 850 stitches per minutes, 13 one-step buttonhole styles, 19 presser feet options, and 5 different fonts.
Other features of this sewing machine include a top drop-in bobbin system, a speed slowing option, a needle up/down button, and a lock stitch feature. The digital features might intimidate some users out of buying this machine but, the truth is that once users get the hang of it, it is fairly easy to handle. And for advanced users, the machine is versatile enough to meet up with their personalization needs.
Pros
Versatile
High tech features
Suitable for both beginners and experienced sewers
Multi-functional
Cons
Expensive
Heavy
Not most ideal for learners
5. Brother XL2600I Sewing Machine
(Best Inexpensive Sewing Machine for Beginners)

The Brother XL26001 Sew Advance, Sew Affordable may be a clever play on words but, it definitely lives up to its name! This model is both cheap and effective at the same time, making it an ideal sewing machine for beginners.
XL26001 is one of the most ideal sewing machines for home use, with its easy to use features, helping with basic sewing needs.
May be a small sewing machine but, this model features 25 built-in stitches at a rate of 800 stitches per minute. The sewing machine comes with added accessories.
Pros
Easy to use
Ideal for beginners
Versatile
Ideal for home use
Affordable
Cons
Bobbin pin and thread tension issues
6. Janome 2212 Sewing Machine
Rather than jump straight into the computerized, high-tech sewing machine options, why not start off with something simple and sweet? The Janome 2212 sewing machine is the ideal machine for that.
New sewing students will find that, without learning to sew with the simpler machines and going through the basic sewing steps, they might have problems with working a sewing machine later.
The Janome 2212 features 12 built-in stitches and a 4 step buttonhole function, allowing easy button additions. The machine is mechanical, with a built-in reverse lever, and does a fairly impressive job on stitches and multilayer projects.
This sewing machine is great for beginners, or for instructors teaching new sewing students how to handle a sewing machine.
Pros
Reasonable price
Ideal learning machine
Reliable
Easy to use
Works well on multilayer projects
Cons
Needle jams
Difficulty with bobbin adjustment
Sizeable
Not very ideal on suede, fur, plastic and extra thick fabrics
7. Brother Project Runway CS5055PRW
(Easiest Sewing Machine for Beginners)

The Brother Company makes this fine, computerized sewing machine, the Brother Project Runway CS5055PRW. Sweet features of this machine include an automatic threading, 50 in-built stitches, and an LCD display.
Plan on sewing a huge range of fabrics? This electric sewing machine will allow you make the most advanced, neat buttonholes, zippers, and overcastting edges. LCD display allows users conveniently select their preferred stitches, and adjust them according to their needs.
Talking about the buttonholing styles, this machine comes with an impressive 5 one step buttonhole styles that custom fit your buttons. And then there is the 6 sewing feet feature.
Pros
Easy to use
Durable and convenient
LCD display
Fast
LED lighting for darker fabrics
Convenient
8. Singer Heavy Duty 4411 Sewing Machine
(Best Versatile Sewing Machine for Beginners)

Are you in the market for a sewing machine you can learn on, and still use for many years to come at low maintenance costs?
The Singer Heavy Duty 4411 model may be made specifically for you! This sewing machine has been voted as the best sewing machine for beginners for two years straight.
Features this sewing machine offers include 11 built-in stitches, sewing at a rate of 1,100 stitches per minute; and an automatic 4-step buttonhole. Accessories are not left out of the pack here, with 4 presser feet, an instruction manual, screwdriver, foot control, power cord, and many more items useful for beginners.
Pros
Fast and reliable
Adjustable stitch size
Affordable
Heavy duty sewing machine
Quiet performance
Portable and lightweight
Cons
Ideal for basic projects and beginners
No automatic needle threader
9. Brother SE600 Sewing and Embroidery Machine
(Best Sewing and Embroidery Sewing Machine for Beginners)

Have you been sniffing around sewing and embroidery catalogues, looking for the best sewing machine for seamstress duties? Then, your search is finally over. I give you the Brother SE600 Computerized Sewing and Embroidery machine.
Looking to hear more on this machine's impressive features? This computerized sewing and embroidery machine features 103 built-in stitches at an impressive 710 stitches per minute rate. Other features include a colour touch screen and an automatic needle threader.
The sewing and embroidery machine is impressive all on its own but, it comes with additional accessories. Accessories include a 4×4 embroidery hoop, embroidery arm, feet, blind stitch footdust cover, cleaning brush, blind stitch foot, and more.
Pros
Easy to use
Ideal for beginners
Easy to set up
Highly versatile
Portable and compact
Cons
Possible breaking needles
Touch-screen and bobbin complications
Singer Start 1304 Sewing Machine
(Best Compact Sewing Machine for Beginners)

Often described as the best compact sewing machine for beginners, the Singer Start 1304 Sewing Machine has more than lived up to its hype.
It is an electric sewing machine featuring 6 in-built stitches, ideal for sewing beginners. The complicated and dizzying options from the computerized sewing machines now available are eliminated in this machine. Here, you can simply make a choice with the 6 stitch option with the press of a button.
The machine has been made with beginners' ease in mind, as the width and length of the stitches are already measured, for maximum user ease.
The four step buttonhole feature is automatic and, allows users easily add buttons. Threading system is further simplified with the help of a threading diagram calibration. The machine also features a stitch-selection dial, and vertical spool pins.
Other features of this sewing machine include a removable extension table, and a free arm. This machine was made for simplicity and ease, all without taking away from its sturdiness and stability.
Pros
All-round simplicity
Light weight
Versatile
Heavy Duty
Reliable and sturdy
Cons
Few number of stitches
Fixed width control
Janome HD1000 Sewing Machine
(Best Sewing Machine for Beginners)

Janome HD100 can proudly say that it is sturdy, user friendly and heavy duty all at the same time. You might also be interested in the bonus pack that comes with a purchase of the Janome sewing machine because, who doesn't like free gifts?
This machine is constructed of the best quality aluminium, allowing a wide range of fabric to be comfortably dealt with. Sewers are served with 15 sewing stitches, and a four step buttonhole feature. Perhaps you deal with threading problems? No worries, as the Janome HD1000 comes with an inbuilt needle threader. The bonus kit included contains a concealed zipper foot, 10 pack bobbins, and a size 12 needles.
Leather is not a problem for this machine which is made of heavy duty metal.
Pros
User friendly
Sturdily built
Heavy duty metal
Singer 7256 Sewing Machine
(Essential Sewing Machine for Beginners)

Want to know the big kicker about this sewing machine? It is ideal for both the experienced and beginner sewer.
You could be an experienced tailor looking to upgrade an older, malfunctioning sewing machine or, newly venturing into the sewing world. No matter your level, the Singer 7256 is a match made in heaven for you. The sewing machine comes with 70 built-in stitches, which include 6 buttonholes and decorative stitches, allowing you express all your creative ideas.
Sewing at a rate of 750 stitches per minute, the sewing machine comes with extra accessories including buttonhole foot, a pack of needles, an all-purpose foot, and a blind hem foot. More accessories come with the package, including a soft-sided dust cover, foot controller, and a warranty spanning up to 25 years.
Pros
Fast and easy to use
Large number of stitches available
Different available needle positions
Smooth and efficient feeding system
Cons
A beginner might need some more time figuring out the workings of the machine
Heavy Duty projects are not ideal for this sewing machine
Thick and layered materials are not ideal
The Best Way to Find the Right Sewing Machine – 4 Things You Need to Think About
Maybe you have already bought a sewing machine and it didn't meet up to your expectations or serve the specific purposes you needed it for. Now, you might be confused about how to go about picking the right one.
All sewing machines have their own cons and pros, unique in their own ways, with their specifications. I will highlight 4 pointers to help you when picking out a sewing machine.
1. The Type
Sewing machines have been in existence far longer than you could imagine. They have evolved from foot-pedalled manual machines to expensive, electric machines with special, high technology functions. Knowing your needs will help you in selecting the perfect sewing machine for you.
I will tell you what I know about the types of sewing machines and some of the best sewing machine products, since I can't possibly go through all the different types of sewing machines.
Singer sewing machines for beginners is one of the two most popular sewing machine brands available today. This is because Singer offers enough options in sewing machine models to fit all levels of expertise, all areas of sewing, and budgets.
One of the most ideal sewing machines for beginners is the Singer 7258; with its portability, stability and affordability all crammed in one bundle.
Brother sewing machines offer perhaps the widest selection in machines for beginners, intermediate and even quilters. The best selling Brother sewing machine is the Brother CS6000i. This particular model is more popular thanks to its affordability, durability, and easy-to-handle features.
2. The Functions It Offers
There are different sewing machines for specific purposes such as quilting, embroidery and leather.
Sewing leather requires a lot of effort and is time-consuming. This is why you must get a sewing machine specifically for leather. It will assist you in finishing heavy work faster, more efficiently and with less stress.
If you are going into the leather sewing area specifically, you must buy a sewing machine meant for leather work, as regular ones cannot handle the thick materials.
Other areas you will need specific sewing machines for are;
Sewing machines for canvas
Sewing machines for quilting
Sewing machine for auto-upholstery
Sewing machine for Jeans
3. Budget
No matter your budget, the brands have made it possible for you to afford at least one sewing machine model in the market. Companies have sewing machines that are reasonable affordable for beginners, and also offer the high-priced machines. If you are on a budget and need something small to help you learn the basics of sewing, you can find sewing machines from $100.
If you are looking to go into the sewing industry as a large scale industry, you may want to consider budgeting a higher amount of money. Sewing machines for beginners do not necessarily need to be complex.
However, in order to make it big in the industry, you must invest in high-end sewing machines, including Heavy Duty sewing machines, embroidery machines, quilting machines, and more.
4. Size and Weight
You must consider the logistics of whatever sewing machine you wish to acquire. Sewing machines can come as large contraptions normally, specifically the ones intended for heavy duty work and bulk production.
If you intend on purchasing a sewing machine that is durable and portable enough to be travelled with, you must check out the dimensions and weight. For a small, portable sewing machine for a beginner, you should consider the Singer Start 1304 sewing machine.
There is no universally perfect size of sewing machine. The right size for you simply depends on how you intend on using your sewing machine. If you are a sewing class instructor, for example, you might need to travel from place to place with your sewing machine. But, if you plan on having a permanent site for your machine, the size should not be too much of an issue.
And if you don't care much about portability but still require a sewing machine that would fit into a pre-selected space, you must consider its size.
Sewing Machines – The Dos and Don'ts
Using a sewing machine is not solely about learning to properly pedal and sew stitches. To get the absolute best out of your sewing machine, you must abide by some rules and avoid some things.
What are some of the most important dos and don'ts that come with using a sewing machine? I will talk about some of those below.
Choose the Right Thread
Your thread is important to your sewing, although many people seem to overlook it. Whether you are hand-stitching or making elaborate embroidery, your thread is an important part of your sewing. The first thing to remember is that your thread should match whatever it is you are sewing, or fit into the theme you are creating.
Pick the Right Needle
A needle is an undeniably essential part of your sewing, whether hand or machine. So, you must be careful to pick the right needle for your projects. For lighter garments and stitches, you can stick with regular needles. However, for heavier sewing projects like leather or jeans, pick a thicker needle.
Don't Forget to Wax Your Thread
For the smoothest sewing experience, do not forget to wax your thread. This reduces dealing with tangled thread, allows for easier insertion into the needle eye, and prevents frying. To wax your threads, you can simply use beeswax or thread heaver.
Iron Before and After Sewing
Do you want more accurate measurements? Then you should iron your fabrics before even measuring them. Why? This is because you stretch out the material more, removing creases and folded edges. Ironing your finished clothes simply creates a more professional, neat result.
Use Tissue Paper
Use tissue paper for slippery fabric for easier sewing. Placing tissue paper between slippery and light fabric will reduce slipping while sewing. It also allows for easier cutting.
Wear a Thimble
Sure, you heard about wearing thimbles during your brief classes on sewing in school but, how many people actually wear them while sewing? The accessories feel uncomfortable at first and even weird but, they serve their purpose by preventing injury and assists in pushing in those tougher fabrics. Once you begin wearing them, you would actually get used to the hard, cold metal.
Sewing Machine Maintenance
Did you figure that you would just buy a sewing machine and all its inner working would be revealed to you? And now you're in a bit of a bind because you have no idea how to maintain and use the sewing machine? Well, this article is just for you.
Follow these simple steps and you should be good to go.
Check the Threads
In case you haven't gleaned on the importance of your threads by now in the article, we will touch on it one more time. Make sure that the thread you are using matches on both the top and bottom spools.
For decoration or creative purposes, you can also use different colours. The type of thread you use is just as important, as you need to maintain the same consistency and an even tension throughout your sewing.
Prepare the Fabric
We talked about ironing fabric before cutting and sewing earlier but, most people overlook this step. You must prepare your fabric before taking it to the sewing machine.
If you fail to properly prepare the fabric, you might have to deal with a lot of bunched up fabric and uneven ends. Make sure that your material is smooth and flat before sewing.
Straight Feeding
Here is an issue that even some more experienced people face when sewing. Bad feeding can result in stray stitches as your final result. To avoid this, you should take the time to feed your fabric precisely and properly.
Most sewing machines come with guidelines on how best to achieve this. Or, you can learn this in Sewing for Beginners' class. Simply hold your fabric firmly along the lines and begin stitching slowly. As you gain more confidence in what you are doing, increase your pace steadily.
Maintenance of your Sewing Machine
If you want to get the most out of your money's worth, you must follow the proper guidelines for maintaining your sewing machine.
First, you must keep it clean and oiled. Just like with any other thing you own, including your body, you must clean the machine regularly. Don't forget the harder to reach parts like the feed dogs, needle system, and the teeth. Don't forget that oiling also goes into the maintenance routine of your sewing machine.
Sewing Machine FAQ
In Conclusion
I definitely learned more about sewing machines writing this article on guiding a beginner to sewing machines! I hope you have enjoyed it as much as I have. Hopefully, you have taken something away from this. Maybe you have noted some things down and are warming up to place that order for a brand new sewing machine right now!
Or, you're still in a bit of a bind trying to figure which sewing machine brand is the best of the best. Well, for me, I would say that the Singer Quantum Stylist 9960 has it all.
The sewing machine offers a lot in terms of high-tech features, sturdiness, and efficiency, all packed in one multi-functional sewing machine.
So, what is your final verdict? Do you agree with my choice? Tell me in the comments section down below and don't forget to sound off any questions you might have. I will be sure to respond.