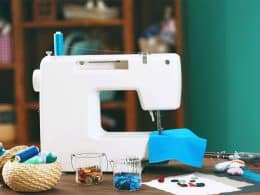 The variety of sewing machines is so wide, that it might become overwhelming to choose a single model.
Let's be honest, with the power of the internet, every brand can state that its products are the best ones. Which is not necessarily true. Today you will see that not all sewing machines and brands are equal. By analyzing which companies stay true to their words, which options are important and how to look for the best sewing machine, I will guide you to a wise purchase.
With that in mind, are you ready to find the best sewing machine? Follow each chapter of this buying guide to find the secret.
Best Sewing Machine Comparison Chart
Before going to the actual reviews, let's check the models I want to present to you and see the main characteristics that each an everyone has. After reading the comparison chart, you will already have an idea about each product.
Top 18 Best Sewing Machine Reviews 2020
This is the part of the article that probably interests you the most, so I will not linger too much on the introduction. You will be able to read every important aspect of the sewing machines listed, with their pros but also their cons.
1. Brother CS6000i Sewing and Quilting Machine
(Best for Quilting)
The Brother company produced the CS6000i model to be both user-friendly and portable. It comes with 60 built-in sewing stitches and 7 techniques of one-step buttonholes. It has very good quilting qualities, but it can also be used for other sewing purposes. The CS6000i model has 9 included presser feet from which you can choose and it has an LCD display that will help you do the settings.
Other great aspects that are worth mentioning are its adjustable sewing speed control and its automatic needle threader. When you buy it, you also receive an instruction manual that can be read in either English or Spanish.
Pros
Easy to use;
Winner of Women's Choice award in 2020;
Great for quilting;
Good price.
Cons
It has a plastic case;
Sometimes the bobbin can get pulled up;
Doesn't have automatic tension.
Personal experience:
I usually look after the products that win different kinds of awards, not because they are popular but because of the features that made them popular. So, when I saw that the Brother CS6000i is one of the winners of this year's Women's Choice Award I had to try it.
I don't know what to say that was not already said about this model. It is great. It won his prestige by right. It has a good price and is very handy when quilting. Last but not least, it is portable and for me, this is a very important factor because I move around a lot.
Even though it has a better price than most, you should check an online tutorial before spending money on it. Check this video presentation. It will teach you how to setup the sewing machine properly.
2. SINGER Heavy Duty 4423 Sewing Machine
(Best Heavy-Duty Portable Sewing Machine)
The heavy-duty 4432 sewing machine produced by Singer was designed, exactly as its name suggests, for heavy-duty plans. This involves projects with fabrics such as denim. This model has a strong motor, that will allow you to work at an impressive sewing speed, therefore you will save lots of time.
Even though it is a portable sewing machine, the 4432 model from Singer comes fully packed. It offers 32 stitches, a one-step buttonhole, a stainless steel bedplate, and an adjustable presser foot pressure.
Another great aspect of this product is that you can solve your issues as soon as they appear with the help of the SINGER Sewing Assistant App.
Pros
Great value for money;
Amazing customer support;
Great for traveling;
Very impressive heavy-duty skills for a portable sewing machine;
Very easy to use.
Cons
Some stitches can come loose;
Its light is not the best;
It doesn't have the greatest returns on canvas.
Personal opinion:
Singer 4432 may not be the most beautiful girl in the world, but it's a talented one nevertheless. It has a very good price, it does well on thick materials and you can take it with you when traveling.
Yes, some stitches can come loose and the light it's not the best, but the Singer 4432 model is not a professional one so you need to understand that when buying it.
To learn more about how this compact sewing machine operates you can watch a video from Singer. Watch the next video before taking any decision regarding the 4432 sewing machine.
3. SINGER Quantum Stylist 9960 Computerized Sewing Machine
(Best for Advanced Users)
Produced by Stringer, the Quantum Stylist 9960 sewing machine is the ideal accessory for an aspiring designer. It comes with 600 built-in stitches and 5 fonts that will allow you to give every item you produce a personal touch. You can combine stitches and lettering to design unique stitch series.
The model also has a Needle Up/Down feature and also a great speed control so you can decide at what speed you want to work. The Quantum Stylist 9960 sewing machine comes with a Top Drop-in Bobbin that will help you not to run out of thread while working.
Pros
Great qualitative stitches;
Very good light;
Amazing variety of stitches;
Many accessories.
Cons
Not very easy straightforward for beginners;
You can't save the custom patterns.
Personal opinion:
I think that this is one of the best sewing machines I ever laid my hands on. It provides so many built-in stitches that you can never become bored of her and you will improve your creative skills.
However, if I were to be at the beginning of my stitching career, I don't think I could have been able to use it. This is why it is very important to read its manual and watch a video of the model in action and to be honest with yourself about your skills before purchasing it.
If you are looking for a relevant tutorial, I suggest you to check the one below.
4. SINGER Stylist 7258 100-Stitch Computerized Sewing Machine
(Best for Around the House Projects)
Another model from Stringer, the 7258 sewing machine comes packed with 100 stitches for you to choose from but also 6 different buttonholes styles that will let you create impressive home decorations and quiltings.
You can use the LCD screen to customize your stitch's length and width and the Top Drop-in Bobbin to sew without worrying that you will run out of thread in the middle of the project. It has a speed control that will come very handy and a Free Arm that will make the hemming process very easy.
Pros
Very easy to use;
Comes with many accessories;
Doesn't make noise.
Cons
Doesn't return great results on thick fabrics;
Cannot change the presser foot tension.
Personal opinion:
The 7258 sewing machine is a very nice and compact product. I think it is the best one to have around the house to work on curtains or other home decorations as well as on the family's clothing. Its free arm is great for hemming pants or children's clothes.
It can be used by any beginner or more advanced user. However, you should read its manual or watch an online tutorial before buying it.
Click on the following link to see a relevant video with this sewing machine.
5. Janome 2212 Sewing Machine
(Best Entry Level Sewing Machine)
Designed by Janome, the 2212 model is a great entry-level type that comes at a great price. It offers 12 built-in stitches and also a four-step buttonhole. It has a dial pattern selection but also you can select the stitch width and length, making it very easy to use. It is lightweight and straightforward, therefore it is one of the best sewing machines a beginner should consider.
When you buy the item you also receive some accessories with it, but you can order extra if you want because they offer a broad range from which you can pick.
Pros
It has great speed (860 spm);
Comes at a good price;
Lightweight;
Great for learning or teaching.
Cons
Advanced users will get bored with it;
It comes with very few accessories.
Personal opinion:
When you start learning how to sew it is very important to have an easy to use and non-complicated sewing machine. For this purpose, the Janome 2212 model is one of the best there is. It can also be used for teaching others and for around the house little repairs.
However, if you are a more advanced user in search of a machine that will let your creativity run wild, this product will most likely disappoint you because it has limited options.
6. Brother HS2500 Sewing Machine
(Best Classical Sewing Machine)
With a very classical design, Brother HS2500 comes with 70 built-in stitches and 7 one-step buttonholes. The machine has an LCD screen that will assist you while choosing the fancied stitches. You will receive the sewing machine with a 25 years limited warranty and an instructional manual that is available in both English and Spanish.
Pros
Easy to use;
Many accessories;
Qualitative stitches.
Personal experience:
I believe that the Brother company is one of the best when it comes to sewing machines. As always, the HS2500 sewing machine is a very nice product with all the classical features a beginner should need. Another thing that I like about it, is its portability. It is lightweight and you can take it with you while traveling.
I didn't notice any relevant video for this sewing machine to share with you, but you can check out its instruction manual to learn more about it.
7. Brother SE400 Computerized Sewing and Embroidery Machine
(Best For Beginners – Winner of Women's Choice Award in 2018)
The SE400 model from Brother is a complete product. It can be used for normal sewing, quilting or embroidery. It comes with 67 sewing stitches and 98 stitch functions, but also 120 frame pattern combinations, 70 decorative designs, and 5 lettering fonts that will let your creativity run wild.
It has a very nice LCD screen that will let you run the settings you need, but it can also be connected to a computer to import extra designs if you wish. Another plus is given by its built-in embroidery card slot that can also be used to import extra embroidery designs.
With a 400 spm speed and a maximum embroidery area of 4″x4″, the Brother SE400 sewing machines will satisfy both beginners and advanced users.
Pros
Computer connectivity;
Good value for money;
Great for beginner embroiders.
Cons
Not the best quality when doing small designs;
Needles are very sensitive.
Personal opinion:
This model from Brother has everything a person might need. You can use it for quilting, you can use it for embroidery or small sewing projects around the house. It may not be the most straightforward machine for a newbie, but if you will read its manual and watch some video tutorials you will very soon become friends.
Yes, the machine has some minuses, such as the quality of the small embroidery, but you have to understand that this is a universal sewing machine and not a professional embroidery one.
What really messed with my mind was that I had a difficult time trying to connect it to my MacBook, but only because I am not the best computer person and the issue was very easily resolved once I asked for assistance.
8. SINGER Heavy Duty 4411 Sewing Machine
(Best Sewing Machine for Thick Fabrics)
The Singer Heavy Duty 4411 sewing machine is the best one when you need to work with thick materials. It has a very strong motor that ensures a high sewing speed. Due to Adjustable Presser Foot Pressure, you can also tailor really lightweight sheers. This model comes with 11 stitches from which, one is a four-step buttonhole.
For beginners, Singer made an Online Owner's Class video for easier comprehension. Also, for any issues that you encounter while using the Singer Heavy Duty 4411 sewing machine, you can use the SINGER Sewing Assistant App.
Pros
High speed;
Reasonable price;
Great with thick fabrics.
Cons
Beginners could have a problem working with it.
Personal opinion:
I can't say that this is my favorite Singer sewing machine, but I love the way it works on multiple layers of denim, so indeed is a heavy-duty sewing machine. I can't state that it returns the best results on canvas, but I still think it is a good value for money. I recommend you to read its manual and watch some videos to see how the product actually works before buying it. Check out the presentational video below to gain more knowledge about this sewing machine.
9. Brother PQ1500SL Quilting and Sewing Machine
(Best Extension Table)
Produced by the Brother company, the PQ1500SL sewing machine is one of the best models for quilting available right now you on the market. It offers a 5.7″ x 8.6″ workspace area and an incredible speed of 1500 spm.
Its Built-in knee lifter will allow you to smoothly lift and lessen the presser foot, permitting your hands to be free and handle the fabric. However, probably the best part of this model is its extremely large extension table that will turn your quilting experience into something fantastic.
Pros
Amazing extension table;
Very-high speed;
More than fair price.
Cons
The machine is heavy;
Some threading issues may occur.
Personal opinion:
I was not much of a quilter myself before this, but the PQ1500SL sewing machine made me realize that I was living a lie. With the proper machine, anyone can quilt and if you want to start doing so, this is the product to work with. The very big extension table will make your work to be extremely easy. It is true, you will need a bigger working space for it, but if you can afford to make room for it, you should definitely consider it.
However, you should not buy it without further research regarding it. To do so, you can read its manual or watch an online tutorial.
To understand more about how this Brother sewing machine works, play the next video.
10. Brother XR3774 Full-Featured Quilting Machine
(Budget Pick)
Another great model from Brother, the XR3774 is the best sewing machine you can choose while on a budget. It is cheaper than the rest and has a lot of great features. It comes with 37 built-in stitches, that includes a blind hem, an automatic one-step buttonholer, but also quilting stitches. The XR3774 sewing machine has 8 sewing feet with blind stitch and zigzag among them.
With an 800 spm speed, this Brother model will be used easily by both beginners and advanced users.
Pros
Best value for money;
Great lighting;
Very easy to use.
Cons
It is kind of noisy;
Can skip stitches.
Personal opinion:
I personally can't think of a better deal than this. XR3774 is an amazing machine at a more than decent price. I love its design, its wide table and I might say that I probably made some of the best pants hemming due to its free arm.
Of course, this sewing machine also has some issues but is very suitable for beginners who want to see if sewing is for them or for more advanced users who can't afford a professional one but still look for quality.
As always, I recommend you to check the instruction manual and watch a video before deciding. Check out the following online presentation by the Brother company.
11. Brother HC1850 Computerized Sewing and Quilting Machine
(Best for Free-Hand Quilting)
The next sewing machine that I want to present is another great one from Brother. The HC1850 model is great for any level of sewing skills and offers the best quality when using it for sewing or quilting. You can even use it for basic monogramming.
The Brother HC1850 sewing machine comes packed with 130 unique stitches that include 8 styles of 1-step buttonholes and extra 55 alphanumeric sewing stitches for the basic monogramming.
The product presents many features such as 8 presser feet or automatic threading system, but its most appreciated quality is given by the detachable wide table and the spring action quilting foot, that will allow you to practice free-hand quilting.
Pros
Good value for money;
Very good for quilting;
Good speed;
Portable.
Cons
Its auto threader is not as good compared to other machines;
Some bobbin issues may appear in time.
Personal opinion:
As I said earlier, I don't usually do quilting, but some machines are so good for this, they make you want to start to cross your limits. So, I must confess that after testing multiple machines that are amazing for quilting, I started to take some classes to improve my skills and because the Brother HC1850 sewing machine is also very portable, it came really handy to travel with it.
Also, I really appreciate that it has a very good speed (850 spm).
I couldn't find any relevant video with this model, but should still read its instruction manual to understand more about the product.
12. Brother DZ2400 Sewing Machine
(Best for Clothing Creation)
If you are looking for a sewing machine for clothing, then the Brother Designio DZ2400 should definitely be on your list. It has a very good speed of 850 spm and comes packed with accessories and features that will ease your work and boost your creativity. You can choose to run one of the 185 built-in stitches proposed that also include 55 alphanumeric stitches, but also 12 sewing and quilting feet.
Its LCD display is large and easy to use and the LED lighting will help you work even if there is a dim light in the room.
Pros
Good price;
Appropriate for any kind of skill;
Great for sewing clothes.
Cons
The bottom threat can create some problems;
Some tension issues may occur.
Personal experience:
The DZ2400 sewing machine is very easy to use and can be managed by both a beginner and a professional tailor. I like that it has so many features and it does not come very expensive.
I mostly used it for sewing clothes, but that doesn't mean you can't use it for quilting as well.
You can look at a video to see how this sewing machine works or read the manual. To watch a relevant presentation of the machine, check out the link below.
13. SINGER 9980 Sewing Machine
(Best Collection of 1-step buttonholes)
The Singer Quantum Stylist 9980 sewing machine is a product especially appropriate for advanced users. It comes with 820 different stitches and an amazing collection of 13 one-step buttonholes, such as basic bartack or keyhole buttonhole. Due to its LCD screen, the stitch selection can be made very easily.
You can pick basic stitches for clothing sewing, quilting stitches for and even decorative stitches. Moreso, you can choose the length and width of the stitches.
The Quantum Stylist 9980 also has a Programmable Needle Up/Down that comes extremely handy when you want to work with appliques, but also a speed control for you to choose depending on the project you are working on.
Pros
Great stitch variety;
Amazing one-step buttonholes selection;
Suitable for advanced users.
Cons
Beginners may have a difficult time with it;
Not the best for simple projects.
Personal opinion:
I really like this sewing machine. Is portable, so I can take it with me but also has everything that a sewing machine needs. I think it is easy to work with, but if you are just learning how to sew you probably won't have the same opinion as me.
Since it is not the cheapest sewing machine, I recommend you to read its manual and understand more about it before purchasing it.
14. SINGER 9985 Sewing Machine
(Best Collection of Stitches)
If you want to take your sewing at a higher level then this pink beauty is what you need. The Singer Quantum Stylist Touch 9985 sewing machine comes with the best variety of stitches – 960 built-in stitches, that you can easily choose with the help of its touchscreen LCD.
This model will let you sew clothes, make beautiful home designs and start quilting. It also comes with a Programmable Needle Up/Down that will help you to pivot around the corners or do free-motion sewing. Also, you can choose, based on each project, what sewing speed you want due to its Speed Control feature.
Pros
Amazing number of built-in stitches;
Beautiful design;
Great value for money;
Very large and helpful LCD screen.
Cons
Some issues may appear while reverse backstitching.
Personal opinion:
I can say that I fell in love with the Quantum Stylist Touch 9985 sewing machine by only looking at it. After I found out what it can also do and actually tested it, my respect for it only grew stronger.
The number of designs you can create using it are endless. Not only that it has probably the best number of stitches, but many of them can be mirror imaged for more than unique designs. This being said, even if you are a very advanced user, you cannot get bored with it.
It comes at a more than decent price for what it offers. However, before buying it you should check it out in action and read its manual.
To see how the 9985 sewing machine works, just play the the presentational video that I selected for you.
15. Janome DC5100 Sewing Machine
(Best Programmable Memory)
The Janome DC5100 sewing machine is a very beautiful designed model. However, its beauty is not its only quality. It comes with 167 built-in stitches that include an alphabet but also 5 one-step buttonholes. You can browse through the stitches by using its LCD touchscreen.
It has an 820 spm speed, but probably the most interesting feature of this Janome sewing machine is its programmable memory capacity.
Pros
It doesn't make too much noise;
It has a very impressive memory capacity;
Great variety of stitches.
Cons
It lacks multiple monogramming fonts;
Not the best quality on heavy fabrics.
Personal opinion:
I don't have anything bad to say about the DC5100 sewing machine. Yes, it is a little more expensive than others and it only comes with a monogramming font but has so many other great features and accessories that make the difference.
It is easy to use, produces great stitches and its memory capacity that can store up to 50 patterns brings a lot of value (for me at least).
16. Janome DC2014 Sewing Machine
(Very Versatile Sewing Machine)
The last product from Janome that I want to talk about today is the DC2014 model. This sewing machine is extremely versatile. You can use it for any kind of project. Simple sewing, clothing, home decor, quilting, scrapbooking. You name it and the machine will help you do it.
It comes with 50 built-in stitches, that include also three buttonholes. The DC2014 sewing machine is packed with a lot of features such as speed control or an auto-lock button.
It has an LED screen that will help you choose the stitches you want to use very easily.
Pros
Very easy to use;
Qualitative stitches;
Suitable also for beginners;
Extremely versatile when it comes to fabrics.
Cons
It is not cheap;
It doesn't have an automatic thread cutter.
Personal opinion:
I think that if you want a sewing machine that is good for any kind of project, then you should definitely take the DC2014 sewing machine into consideration. What I like most about it its stability it is and how good much precision it has.
I would have liked to be a little more portable and have an automatic thread cutter, but other than that, I can't say any bad word about it.
17. JUKI TL-2000Qi Sewing and Quilting Machine
(Editor's Choice)
Produced by Juki, the TL-2000Qi model is an amazing sewing machine and this is why it is my editor's choice for the article.
It is lightweight, making it very portable, but also has all the features a professional sewing machine needs. It has an incredible 1500 spm sewing speed and a 23 inches working area. Due to its auxiliary table, you can work on large curtains or quilts.
Pros
Big working area;
Extremely qualitative stitches;
Very high sewing speed.
Cons
Not suited for beginners;
It doesn't have computerized controls.
Personal opinion:
You might wonder why I chose a noncomputerized sewing machine to be my editor's choice. The answer is very simple. It returns incredible results and is a great value for money.
With its high speed, large working area, and portability it covers all my needs. However, I recommend you to read its manual to see if it suits your needs as well before actually buying it.
18. Juki TL-2010Q Sewing Machine
(Best for Professional Users)
Last but most certainly not least, I want to present to you the TL-2010Q from Juki. This model doesn't come cheap but it's full of amazing features such as industrial sub-tension system or a 1500 spm speed. It is portable and durable and it will make any professional happy.
Pros
Great quality;
Big working area;
Very handy for quilting.
Personal opinion:
I think that if you are not at your first stitches and you need a reliable sewing machine, the Juki TL-2010Q is a model to consider. Yes, it is not very cheap but if you already know that you want to sew and is not just a Saturday hobby, you won't regret buying it.
I didn't find a relevant video with it, but I advise you to read its manual before making an actual purchase.
Keep in Mind These Different Types of Best Sewing Machines
Why not starting this adviser with the most critical part of choosing a sewing machine? Each type of sewing machine comes with its features, depending on everyone's needs. So, let's analyze them and see which one has the most pros or cons.
Mechanical Sewing Machines
I couldn't start this list without the most basic type of sewing machine: the mechanical one. This machine works only manually, tailoring and treadle. It is called primarily because of the main settings that you could establish only manually.
This type of sewing machine if perfect for beginners, as it is easy to operate, its price is very affordable and you don't pay a fortune to repair it.
The negative part is that it comes with a very limited number of features. So it is recommended only for simple stitching, and not for leather or denim. Another irritating part is that the user needs to thread the needle manually for lots of times. So never use it for embroidery or quilting.
Their design is quite simple, stand based or table-based. Don't expect to get something very fancy.
Electronic Sewing Machine
Moving forward to the next generation, this is a crossover between mechanical and electrical sewing machines. They are free to arm motorized machines, very lightweight and compact. Because of the mechanical engine, they are a great option for decorative and expertise sewing.
Their pro is the advanced stitching, commonly used for embroidering, hemming, and smocking. The electrical sewing machines operate with battery or electricity. Regarding the costs, these sewing machines are more expensive than the previous ones and are recommended to people who are more than minimal experienced with sewing.
Computerized Sewing Machine
The computerized sewing machines are one of the most advanced models, as they are operated by technology. The coolest part? You can connect them to design loaded cards, on the internet and your computer.
This machine is programmable, meaning that you can download patterns from the internet, customize them on your computer, then connect everything and the machine will start sewing. These machines can work with almost every type of material and fabrics, even with the thicker ones. They are also big-size machines, with lots of needles and spool spinners.
They are more expensive, as you might expect, due to their efficiency and big-size, but also for the most advanced features in this domain. It is not easy to operate it, so the computerized sewing machines are best for the experts. They are mostly used for industrial purposes.
Additionally, the sewing machines can be grouped into 8 types, depending on stitches. Here they are:
Button Holler Machine
Embroidery Machine
Overedging Machine
Lockstitch Machine
Bar Tacking Sewing Machine
Double-Needle Machine
Button Attachment Machine
Overlocker Machine
The Main Features of Sewing Machines
Not all sewing machines are equal. What makes them better or least good are the features. If you are looking for a brand new sewing machine and don't know what to choose, then consider these features as your guide.
Free Arm Option
This feature is important if you are looking to sew pants or sleeves. Many times, the free arm option can be a lifesaver. Actually, a sewing saver.
Automatic Buttonholer
Usually found to the computerized sewing machines, this option will manipulate the dial or stop and turn the fabric while sewing a buttonhole. Very helpful, especially when it comes to industrial work, this feature is usually found to the computerized sewing machines.
You can also program the size of the buttonhole so you can have consistency in sewing the buttonholes.
Built-in Threader
This feature makes things so easy while sewing. Imagine that every time when you sew, you would need to thread the machines. With the built-in threader, you can make threading a lot easier and faster. It saves so much time and effort.
Feed Dog Adjustment
The feed dog is actually the teeth found under the needle plate. This part leads the fabric to the machine for needle stitches. This feature is very handy for those who want to do intricate darning and embroidery.
It is also a very helpful mode for those times when you deal with thick fabric that has to be pushed through manually. Most of the sewing machines let you disable this feed-dog feature.
Top Loading Drop-in Bobbin
With a system like this, the bobbin will pop out and drop into place without disassembly the casing of the bobbin. The bobbin is that spool made of plastic and metal, which main importance is to hold the lower thread in making a stitch.
The top-loading drop-in bobbin is used to make wounding the thread quicker, and its transparent cover will allow the user to see if the bobbin is low on thread.
Adjustable Presser Feet
This is one of the most useful functions, as it lets you control how tightly the machine will hold the fabric while sewing. The adjustable presser foot comes in different sizes and can prevent the puckering of fine materials and stretching the knits.
Speed Control
You really need this feature, as it allows the sewing machine to fix how fast the fabric is fed into the machine. This way, you can enjoy your own tempo of sewing.
Knee Lifter
This features refers to the feed dog but appears only in a few sewing machines. It is useful for freehand embroidery. All you need to do is to lift the presser foot, then try to drop the feed dog.
Needle Position
The needle position lets you move the stitching line from up to down, left to right. With this feature, you can move the needle and stitching line from up to down and left to right (and vice versa). With the needle down, lifting the pressure foot and turning in a corner without a jump stitch is made easier.
Power Switch
When turning the sewing machine on and off, the power switch is a great safety measure if you have kids. If the sewing machine doesn't have this option, just plug it in with a safety strip.
Tension Adjustment
This feature helps you prevent loopy stitches and puckered fabric. The tension adjustment will let you adjust the tightness of the thread.
Twin Needle
This advanced feature lets you create two parallel stitches, so the seam will be more durable. It is also very useful for those who want to incorporate two threads of different colors.
What to Consider When Purchasing Sewing Machines
In order to get the best of the future sewing machine, you need to make sure it was picked based on some important facts. In addition to the feature I talked about above, here are some factors to consider:
1. Stitch Selection
The stitch selection is important for the sewing plans you have. It is important to consider not just the stitch selection, but also their lengths and widths.
2. Ergonomics
Ergonomics refer to those pieces of the machine that ensure the sewing machine is easy to operate. Although you are not a beginner, it doesn't mean you don't want to have an easy way to operate a sewing machine.
So look for: responsive foot pedal, controls that are within reach and easy to use, information on an LED Display, easy to read, controls within reach, wider space to the right of the needle, which mean more space for hands and fabric.
3. Budget
One of the main factors when buying sewing machines is the budget. Let's be honest, everyone considers the money. Fortunately, sewing machines come in so many variants, that it's hard not to find something that relates to your budget.
Just remember that if you have a very limited budget, try not to choose the cheapest sewing machines, made of low-quality plastic. It won't last you long.
4. Weight
If you plan to take your sewing machine with you while traveling, look for a lightweight model, to make the process easier. Also, there are some models that include a handle, to make the process of carrying more convenient.
5. The Sewing Experience
Analyze your skills and be honest with you. Would you consider yourself an advanced, intermediate or a beginner sewer? The answer will lead you to the size, features and stitch options you need from a sewing machine.
6. Noise
I bet you haven't thought about this small consideration. It might seem superficial, but it can affect how often you will use the sewing machine. Make sure you buy a model that doesn't create too much noise.
7. Warranty
It is natural to buy a product that comes with protection for your investment, especially if this one was really expensive. Take into consideration the duration of your warranty, the coverage, and the exclusions.
8. Type of Sewing Projects
Of course, everybody should consider future sewing projects when buying a sewing machine. Consider your expectations: will you sew soft fabrics, or maybe you need a special arm for sleeves and pants. Or you will do sewing as a hobby and make only bags and aprons. Think about all these before buying the next sewing machine.
9. Frequency
How often are you going to use this machine? If not so often, don't invest in an expensive sewing machine. But if you will use it on a regular basis, just buy a heavy-duty one.
Buying a Sewing Machine Close to You
There was never so easy to buy a sewing machine that is close to you and comes directly at your door. If it's the first time when buying a sewing machine, just write on Google the main features you are looking for. For instance, type something like "buying a sewing machine close to me", "Where to buy a sewing machine near me?". The search engine will instantly give you options, with reviews, prices, and location.
FAQs
Conclusion
Now, that we reached this point, try to tell everyone in a comment how should the perfect sewing machine be like. I'm curious which is the greatest sewing mechanism in the readers' conception or based on their experience.
As you've seen my personal favorite of today's article is Juki TL-2000Qi, but that doesn't mean that Brother sewing machines are less in my top preferences.
All in all, the best sewing machine is one that suits your needs. Consider all the information above and choose the mechanism that will make your creative projects real.