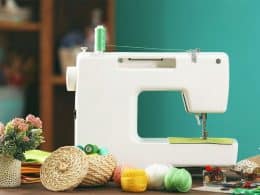 You are passionate about clothes and want to start creating your own unique designs? You made some sketches and now you decided to buy a sewing machine to make your dream come true? But how can you choose one and more importantly how can you pick the right one for you?
For most people, buying a sewing machine can be difficult because even cheap models have features hard to understand. With so many brands and types out there, not to mention stitching capabilities, the road on finding one can be overwhelming.
I am not going to say that I have the perfect guide for you on how to choose a sewing machine, but I can explain to you all the steps I took, and still take when deciding on a sewing machine model.
So, sit down in a comfortable place and start taking notes!
7 Important Aspects to Think About when Choosing a Sewing Machine
Just as in any domain, when deciding to buy a product you need to think of why do you need it for and how are you going to use it. This also applies to the sewing machines. So, let's find out what are the most important aspects that you need to consider before spending any money.
1. Sewing Machine Type
There are three big subtypes of sewing machines: mechanical, electric and computerized. Each one has its advantages and disadvantages and you need to fully acknowledge your needs so you can pick the correct one for you. For that, I will make a full description of every kind of sewing machine so you can understand what are the differences between them.
Mechanical sewing machines tend to be more easy to manage. Also, they are more lightweight because they don't have a computer incorporated. If you take care of them, they can work for a very very long time.
Watch the video below for a better understanding of this type of sewing machines:
The electric sewing machines are a hybrid between the mechanical and computerized ones. They have an on/off button and some kind of a screen, but all the components are mechanical. They are durable, just as the mechanical ones but also offer features such as needle position or stitch selection.
The electric sewing machines return beautiful results but don't have fancy characteristics such as embroidery capabilities.
The computerized sewing machines are the most powerful on the market. They offer an amazing variety of features such as stitch selection, buttonholes or LCD touchscreens. The computerized sewing machines can sew at incredible speeds, such as 2000 spm. However, they come at a higher price and will need to be taken care of by a professional for revisions.
The next video is a presentation from the Brother company made for one of their computerized products. Click on it to see what a smart sewing machine can offer:
To wrap this up, let's make a recap. Mechanical sewing machines are not as fun as the computerized ones, but most definitely know how to satisfy your basic needs. So pick the one that will be good for you and of course your budget. And this leads us to the next point – money.
2. Price Range
Set up a budget that you can afford to spend and make a plan. Be advised that the sewing machines' price range can vary between a 2-digits price to even a 5-digits price.
So, if you are on a low budget (2-digits) you will most probably won't be able to buy a very good new sewing machine that will bring any value to you or your work. Because of this, I recommend you to target second-hand products that are produced by known and reputable brands such as Brother or Singer. Even though they are used, they will most definitely bring you more satisfaction than a no-name new one.
If your budget extends to a 3-digits sum, then you will be able to purchase low-cost new models from good brands. They will be lighter, have fewer features and most probably will have parts made of plastic. Still, they will be new and worth your money.
If your budget can extend to a 4-digits sum, the sky's the limit for you and you just need to focus on other aspects.
However, try to find a dealer that will offer you a warranty regardless of the fact that the sewing machine is new or used.
3. Stitches
At this moment, you have a price in mind, so let's go to the next step you need to think about – stitches. Number, types, length, width. These are all aspects that you have to consider when choosing your sewing machine.
Being capable to change the length and the width of your stitches is an amazing feature. Almost all new models of sewing machines allow the adjustment of widths and lengths, but some low-price ones don't, so look for a sewing machine that offers this possibility.
Let's see some of the most popular stitches before moving forward:
The Straight Stitch. This stitch type has to be adaptable from 0 to 5 mm. The 0 setting enables you to secure stitches while the 5 mm stitch length lets you baste and gather. You will most probably work often with the 2.5 mm stitch length, but the capability to modify the stitch length will provide you more possibilities with your stitching.
The ZigZag Stitch. This type a stitch is a back-and-forth one that is used when a straight stitch is not enough, like in the reinforcing buttonholes' case. The zigzag stitch should be adaptable in both stitch width and length.
The Buttonhole Stitch: Truth be told, a buttonhole stitch is only a zigzag stitch, but has this name when it happens automatically. Any sewing machine that has a zigzag stitch should also present a buttonhole feature.
The Stretch and the Knit Stitch: These stitches are great for moments when you sew with knits. Both of them will let the knits to stretch once they are sewed.
Blind Hem Stitch: This stitch type produces almost hidden hems on pants and skirts.
Utility Stitches: These stitches are great for securing sutures.
To actually see these stitches and also other types, check the next video:
This being said, some sewing machines come with more than 300 built-in stitches, of course at a higher price. Because of this, you need to be realistic and pick one that has the number of stitches that you will actually use. Don't choose a machine only to brag with its features if you are not going to use them.
4. Included Features and Accessories
There are so many sewing machine types and in the end, is all about what they can do. So let's see some of the most important features that a sewing machine can have, but also some accessories that usually are included in the price.
Important features:
Needle Up/Down. This feature lets you hold the needle in either the up or down point. This process will simplify the rotating and turning of the fabric.
Needle Position Adjustment. This feature is available on more premium sewing machines but can be found also on some cheaper ones. It enables you to pass the needle on left or right and it is perfect for when working with zippers.
Needle Threader. When talking about this feature, it is different based on the type of sewing machine that we look at. Premium models will have this feature automatic, while the cheaper ones will only have a semi-automatic needle threader.
Lighting. When sewing, it is very important to have good light. So even though lighting may pass as an insignificant feature, I must advise you to look for products that offer good lighting. Your eyes and also creations will thank you for it.
Adjustable Speed Control. This feature lets you customize how fast or slow you stitch. Great for learning.
Automatic Thread Cutter. This is, as its name implies, a method to cut your thread automatically. It can be found on lots of products.
Free Arm. This is actually a detachable part. It will allow you to sew narrow parts such as sleeves. Can be found on many sewing machines. Some come with a smaller and other with bigger free arms.
Knee Lifter. The last feature I want to present is one that used to be found only on premium sewing machines but found its way on the more basic ones in the last years. It lets you raise the presser foot at the same time as your hands are gripping the material. It is recommended for sharp corners.
Depending on the type of sewing you want to do, you also need to look at the included accessories.
For example, for clothes creation, you will need extra feet such as a blind hem foot, a zipper foot or a buttonhole foot, while for quilting you will most definitely want a walking foot.
However, if you find a machine that has all the other characteristics that you need, but lacks a foot accessory, don't worry. You can always order an extra one later.
5. Your Skills
This is another aspect that will assist you to pick your dream sewing machine. What kind of a sewer are you?
Is this your first sewing experience?
Is this your first sewing machine but you have worked on others in the past?
You know how to use a sewing machine but you want to learn new techniques?
You are an advanced user who just wants an upgrade?
Are you a professional who needs a sewing machine for your home business?
Are you the head of a larger company that needs a commercially sewing machine?
See in which category you fit and buy a sewing machine that will be accordingly to your skills.
6. Your Workspace
Another thing that you need to consider is where are you going to work.
Sewing machines come in various sizes and weights. They can be mini sewing machines that weigh 10 pounds and have dimensions such as 13 x 7 x 11.5 inches, or they can be very big, weigh 250 pounds and have a size similar to 48 x 36 x 48 inches.
An extra fact that could be very different depending on the workspace is how much noise the sewing machine makes. Yes, some of them are very noisy, so most probably you won't be able to use them while somebody is sleeping in the house.
So, think about where are you going to work. Is it going to be at home, on a small desk while taking care of your kids or a studio made for sewing purposes, where you can't bother anyone?
7. Your Sewing Needs
This is the last aspect that I want you to think about, but you need to consider every part of your lifestyle and desires and be honest with yourself:
You like gadgets and prefer the easy way of sewing? If so, purchase a computerized sewing machine
Do you travel a lot? Then pick a portable sewing machine.
Do you only need to make some small fixes around the house? Then choose a handheld sewing machine.
Are you a fan of quilting? Pick a sewing machine that has a big free arm and a nice set of quilting accessories.
Do you often work with thick materials such as leather or denim? Then pick a heavy-duty sewing machine.
Do you work with stretch fabrics or knits? Go and pick a coverstitch sewing machine.
Do you like embroideries and want to create some? Buy an embroidery sewing machine.
Conclusion
Buying something new, especially when it is not cheap, it is always a challenge. The key for a successful acquisition is to be true to yourself and choose something that is good for you and your needs and not only because it is popular.
My secret for every dollar spent is that, if I don't love when I buy it, I will not use it. I advise you to do the same. Fall in love with your sewing machine before spending money on it.
I hope that this article was helpful. If you have any questions or remarks, please use the comment section below. If you just liked the article and consider it to be helpful, feel free to press the share button.