Learning hand embroidery is both relaxing and fun. And it's an easy way to make nice art with only fabric and thread. Starting in this exciting craft may seem scary at first.
However, most designs only need a couple of basic stitches. Today, I will teach you all you need to know about embroidery stitches. If you're a passionate crafter, keep reading.
What Are Embroidery Stitches?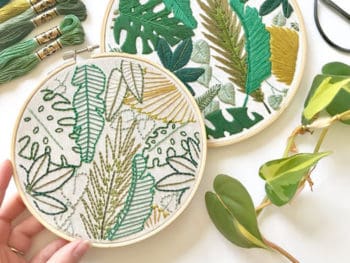 A stitch associated with hand-sewing or embroidery represents the motion of the needle from the back of the fibre to the front face and back to the back face.
The thread strike on the frontal side is known as a stitch too. An embroidery stitch is single or multiple patterns that are made exactly, making a form.
Embroidery stitches represent the smallest units in this practice. They're made by creating many stitches of the same type and size or different ones.
They can be created by following a design drawn on the fabric, counting chart on paper or even working freehand. These stitches have a great range of skills.
Some embroidery stitches are so basic that you likely know them even if you're a beginner while others are so advanced that they require instruction and practice.
Luckily, you can find a lot of YouTube tutorials and step-by-step guides on how to make certain stitches. Therefore, don't worry because you can easily find help online.
What Are Embroidery Stitches Used For?
Embroidery uses many combinations of stitches. Each stitch has a name to help identify it. The names of the stitches differ from country and country and place to place.
However, some embroidery books include name variations as well. Most of the embroidery stitches are easy to make but when put together, the outcome can be complex.
For instance, a blanket stitch is created to provide decorative lines or borders to your project. It's one of the simple hand stitches that can be utilized along the sides of a fabric hem.
It can also be a design or a decorative frame to stitch parts in place on a project. Once you are done with embroidery, you can hand it on your wall. It will add a unique touch to your home.
You can also apply embroidery to clothing. Embroidered clothes have been an important factor for quite some time. Regular items and household can be embellished with embroidery as well.
How Many Embroidery Stitches Are There?
Although there are countless of embroidery stitches out there, the satin stitch and the walking stitch are also common types among passionate embroiderers around the world.
Each embroidery stitch has its texture and appearance. However, the basic ones can be mixed to create a piece of custom embroidery that appears detailed and rich.
How to Embroidery Stitches for Beginners?
Embroidery is one of the oldest, international and multi-cultural handicrafts.
What you can see to be a nice hobby and pastime, started as a means of mending fabrics. The basics are fundamental and strong to this day.
This practice is a nice art which has the potential to be super expensive. Also, it's proven to reduce stress and helps you express your creative side.
Although the basics of this craft look complex, don't worry. You can learn this practise with patience and practice. Here are the 3 things you need to know as a beginner.
1. Invest Time in Learning This Craft
If you want to learn this craft you need to invest most of your time and focus into it. And you need to be very patient. It's recommended to buy a starter embroidery kit.
You can find one in local stores or online. Starter kits are very popular because they include all the things you need to get started. They also come with instructions and supplies.
Most starter kits also include template patterns upon which to work but if you want to save your money, you can also buy tools separately and make your starter embroidery kit.
Can you remember the times when you learned how to trace and colour within the lines? This practice is like that but with fabric, thread and needle instead of paper and coloured pencils.
If you're thinking about getting involved in this craft, you have probably heard of machine embroidery as well. This modern process involves an embroidery machine.
However, I recommend starting by hand before you try machine embroidery because learning the basic stitches paves the path for your understanding of the practice.
Let's take a look at some of the embroidery tools you will need to get started. You can purchase them to make your embroidery starter kit and save some money.
Embroidery frames and hoops
Sewing needles: Milliner, Tapestry and Crewel
A pair of scissors for hand embroidery
A magnifier and a decent lighting
A container for storing supplies
Afterwards, you need to learn the following embroidery stitches.
Backstitch
Chain stitch
Satin stitch
Feather stitch
Running stitch
French stitch
Seed stitch
Split stitch
Lazy daisy
Stem stitch
This is just a list of the basic stitches. Keep reading because I will explain each stitch and purpose later in this article.
2. Buy a Sewing and Embroidery Machine
Automation made a huge impact on manufacturing and textile design. Luckily for newbies, embroidery units can help you make a nice embroidery on different materials.
As I already said, thread, fabric, needle and patience are all you need to begin and master this craft. But using technology can be stressful, frustrating and difficult at times.
However, don't forget that this is your new cool hobby. If you keep the following basics in mind and you will do just fine. Machine embroidery isn't as hard as it seams.
Relax
Just go with the flow
Focus on practising, not perfecting
Make time to practice every single day
Start small
Take notes (create your recipes)
Aim for quality, not quantity
Organize yourself
Always test your designs before you start the project
Stay passionate
Enjoy yourself
You can download some digital patterns for free. However, if you want something extra, you will have to pay. Usually, patterns that don't come for free are worth it.
Most machines come with built-in embroidery designs you can play with. As you can notice, learning this craft isn't as hard as you thought but watching tutorials wouldn't hurt.
If you buy a sewing and embroidery machine, all you have to do is write the name of the machine on the internet and search for written guides or YouTube videos on how to use it.
3. Get Visual Training
You can watch tutorials, observe a class, and sit with a mentor. Nothing can help you learn this craft like combining hands-on learning with visuals.
Search for local classes and/or handicraft groups and join them for a few times. Not only you will learn a lot faster but also gain support and make friends.
It's also recommended to watch demonstrations and go to craft fairs. You can find a lot of resources that will guide you through the learning process.
However, one of the easiest ways to learn embroidery is watching embroidery tutorials and hopefully, in the future, you can make your videos to help others.
What Are the Basic Embroidery Stitches?
Although there are many embroidery stitches you can learn, these are the 10 basic and commonly used. Let's take a look at some of the easiest embroidery stitches for beginners.
This stitch is often confused with the running man. It provides a fast way to outline your designs and you can use it in two different manners.
The first one is the sewing way. Just weave the floss and needle through the material in a single move to make a few stitches at once, as if you were making a seam.
The second one is the "punch and pokes" way. Simply press the needle through the material to the back. Then, poke it through the front at a short distance, making one stitch at a time.
This stitch can be useful when you want a solid line, like when you're making hand embroidery letters or outlines. Start by pulling the floss and needle up through the fabric.
Make one stitch forward. For under, place the needle out the length of your prefered stitch, pull up via the fabric, and get the floss and needle back down via the end of the previous stitch.
This stitch is similar to the backstitch. It's used to make a solid line.
However, its braided texture is all it's own. Split stitch is an ideal solution for outlines and text. It's great for filling in designs as well.
To start, pull the floss and needle up through the material.
Make a single straight stitch. With your floss and needle on the underside of the hoop, get the needle up via the centre of the stitch you just made.
Stitch forward the exact length as the initial stitch. Do the same by bringing the needle up via the centre of each stitch.
This one got its name from being utilized to make vines and flower stems. However, it's a great solution for projects that require curves. It's identical to the split stitch.
Start by making a single straight stitch forward. Afterwards, get the floss and needle up under the fabric. However, instead of going via the centre, go to the side of the stitch.
When you're filling in leaves or making hearts, it's normal to want your design to have a smoother look. That's where this type of stitch kicks in.
It gives a beautiful raised texture and gets everything done quick. Start by drawing out a shape that you have in mind to fill and use as a guide.
With your floss and needle, make a single stitch that extends from one end of the form to the other. Get your needle up again next to the facing of the first stitch.
Keep the stitches close, as needed to fill the design or pattern you're working with. It's as simple as that. This is one of the most common stitch types.
This is a decorative stitch that gives a nice accent design throughout the project. However, you will need both hands to complete it. However, don't worry, it's not hard.
Start by bringing the floss and needle up through the material.
After, wrap the floss around your needle two times. Keep the end of the floss tight and get your needle down next to the place where it came through the material.
Hold the floss as tight as possible as you pull your needle through. You can change the size of your knots by wrapping your floss around your needle between 1 and 3 times.
This one may appear complex and hard but with patience and practice, you can master it in record time. It's perfect for the frame around patterned designs or outlines.
Start by pulling your floss and needle up through your material.
Now, put it going down right beside the place where you came up. Allow the floss to form a loop instead of pulling the floss through your material.
Get the needle up via that loop and pull. To create the following chain stitch, put the needle either right in the hole you just made or nearby and pull through to make another loop.
Repeat the same process to keep the chain going. When you get to the end, make a tiny stitch over your loop to secure it. With a little practice, you will master this stitch.
This is a variation of the chain stitch that's usually called the "lazy daisy" or "detached chain stitch". You may be wondering why that is.
Well, it's because instead of keeping the chain going, you make a tiny stitch just over the end of the loop to make what appears as a daisy petal.
Take the floss and needle and make a stitch. However, before you pull the floss through the material, let it create a loop. Get the needle up via that loop to tether it from being pulled through your material.
Make a small stitch over the top of the loop. Space out the following loop or utilize the stitch to make a daisy. Continue as you wish.
Another variation of the chain stitch is the feather stitch. It utilizes the second stitch to anchor the loop of the previous stitch.
This variation is perfect for covering more space. Begin by getting the floss and needle up through your material and make a straight stitch.
Allow a loop to take form and get the needle up through that loop instead of pulling the floss all the way through. Space the following stitch over in the opposite way from the previous one.
Make another loop and pull the needle through the loop. Repeat on the opposite side. It's pretty simple. You just need practice and patience.
The seed stitch is a great filler stitch. It's a very interesting stitch.
To create it, get the floss and needle up through your material. Create a straight stitch. Get the floss and needle up through your material again in another angle.
Keep going until you get a filled space. Controlled by how far or close you space out the seed stitches, you can create coats of floss that seem to have a dimension or a broad fill.
What Are the 15 Embroidery Stitches?
Learning hard embroidery is both relaxing and fun. It's also a super-easy way to make stunning, original art with thread, needle and fabric.
Getting started in this practice may seem scary at first. But you would be surprised to know that most of the patterns only need a few basic stitches.
No matter if you're a professional or a beginner, if you learn these 15 popular stitches, you will be ready to complete just about any project.
Backstitch
This stitch is so easy to make. You will have it down within the first couple of stitches. Backstitch is great for any type of outlining. It's one of the most common stitches.
It's also a stitch that goes well with other basic stitches which makes it easier to learn. You can embellish with wrapping and weaving and quickly turn into the Pekinese stitch.
Watch this video to know more:
Running Stitch
The running stitch is a straightforward embroidery stitch that is ideal for adding details to your projects and creating dashed outlines. It's also the foundation for Japanese sashiko embroidery.
Although easy, it's adaptable and can turn complicated. For instance, you can change the appearance by adjusting the length and spacing or applying a second line of stitches between the first.
The running stitch also performs well with wrapping and weaving.
Watch this video to know more:
Straight Stitch
The straight stitch is one of the most popular and commonly used stitches.
It's simple to create because it's a simple stitch. Just bring the needle up through the material. Then, go back down. However, it's worth analyzing the various uses for this building block stitch.
You can utilize a straight stitch to make stars, textures, scattered fills, and so on. Practice placement and length so you can include this versatile stitch into your projects.
Watch this video to know more:
French Knot
For many people, creating French known is a challenge. I can't deny that it takes some time to learn how to do it but it's worth the effort.
It's a common stitch you can find in embroidery patterns but it's also suitable for creating a textured fill or different design elements.
The French knot includes wrapping your needle to make a knot on the top of the fabric. The secret is to keep the working thread tight, but not too tight.
Watch this video to know more:
Stem Stitch
This stitch is another common and simple stitch that is ideal for making smooth outlines. It's perfect for both curves and straight lines. You can use it on any lines in your projects.
The making process is similar to most basic stitches. Simply adjust the width of stem stitching or utilize it for fill stitching. Keep the stitch length consistent to get a perfect outcome.
Watch this video to know more:
Chain Stitch
If you prefer a bolder line of embroidery, then this stitch is perfect for you. The chain stitch makes a line of connected stitches. You can do it in multiple ways.
It's recommended to learn how to make it in forward and in reverse. After you master these techniques, you can try other variations of this popular embroidery stitch.
Watch this video to know more:
Satin Stitch
The basic satin stitch is one of the traditional stitches for completing a spot. You can pick from a couple of variations of this stitch. It's a common stitch.
However, satin stitch represents a series of straight stitches performed next to each other. It's very easy to make this popular embroidery stitch.
The secret to making straight stitches transform into something unique is in practising the proximity and length of the stitches. It results in beautiful filled shape.
Watch this video to know more:
Feather Stitch
The feather stitch is a connected stitch that makes open rows that almost appeal like they're moving. It's ideal for creating borders and frames. It's one of my favourite stitches.
It also works well embellished or layered with other stitches as well. The appearance of this stitch makes it suitable for stitching scales, feathers, foliage, seaweed, and so on.
Watch this video to know more:
Split Stitch
The split stitch is another way to make outlines. The way of making a split stitch is identical to creating a backstitch but upside down. It's another simple but common stitch.
The back of your project will end up looking like the surface of the backstitch. You can use textured and strong embroidery lines. It's made by splitting or piercing the previous stitch.
Watch this video to know more:
Detached Chain Stitch
This type of stitch is also known as a single chain. It's common for creating leaves, flowers, and so on. It's made as a regular chain stitch but with just a single link.
The detached chain stitch is what creates lazy daisy flowers. They're often made with 5 or 6 of detached chain stitches. This is another popular stitch that I love.
Watch this video to know more:
Fly Stitch
This stitch is performed identically to a detached chain stitch.
However, instead of creating a teardrop or petal form, this stitch creates a V form or soft curve. You can use this stitch in a line, stitched in a radius, scattered as fill, or a lot of other variations.
Watch this video to know more:
Woven Wheel Stitch
The woven wheel stitch appears like an advanced embroidery stitch. However, it's straightforward. Start by a star of straight stitches. Then, weave the thread to make a flower.
Watch this video to know more:
Couching Stitch
The couching stitch isn't common for newbies. They don't usually include this embroidery stitch in their projects but it's very easy to make and everyone should know how to do it.
This embroidery stitch utilizes 2 lengths of thread at one time. One stays on the top of your fabric while the other keeps it in a spot with tacking stitches.
You can use this stitch for creating texture, making outlines, or completing a space. It's also suitable for yarn, ribbon, and other materials.
Watch this video to know more:
Blanket Stitch
Starting this stitch is the hardest part, however, once you start, you will realize how simple it is to make. You can use this stitch to create decorative lines and borders.
It's also suitable for an edge for applique within your project. Apply variation to the stitch by customizing the height and spacing of the stitches.
Watch this video to know more:
Bullion Knot
The bullion knot is the most advanced stitch on my list. It's not suitable for beginners. However, I believe that it's something you should learn as a crafter.
Think of bullion knots as a long French knot that can make beautiful roses. Train to make them small and begin making them larger. It's a stitch worth learning.
Watch this video to know more:
What Is the Difference Between Hand and Machine Embroidery?
Many people think that the only difference between hand and machine embroidery is the method used. However, it's much more than that.
For instance, items created by hand have a great sentimental value. Machine embroidery, on the other hand, takes less effort and saves time.
Hand embroidery starts with a piece of material tightly stretched over a hoop. From the time the initial stitch is made, the user will make choices about the type of stitch used and the colour of the thread. As they continue, they can get their mind about what colour and stitch type provides the greatest results.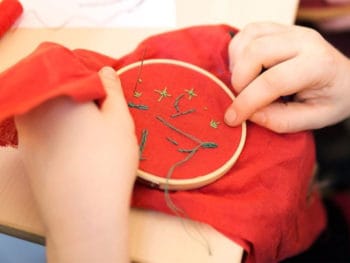 Hand sewing results in a one-of-a-kind artwork every time it's made. Even if the same thread colours and patterns are copied, there will be differences in the way of stitching.
Also, the type of thread utilized for hand stitching varies from that utilized in embroidery machines. The hand embroidery thread is stranded. It arrives in wool, cotton or silk.
The strands can be separated to create some places more delicate or flatter or mixed for bulkier places. This method gives the craft more distinction and texture between different spaces.
Machine embroidery, on the other hand, is a more uniform and exact process.
Although the crafter can pick from thousands of designs and pick the thread colours they want to utilize, there is no space for editing during the process.
Pre-made patterns are inserted into the machine and the same pattern is made every time. This process is like running documents through a copy unit.
This means that each piece is similar to the original. The thread used in this process is heavier than that used in hand embroidery. It's usually made of rayon, metallics, and polyester.
It's not a stranded thread and can't be separated to switch the texture of any part of the item. The exact thickness will appear throughout the pattern, offering it a flattering look.
Which method is better? In my opinion, they both have advantages and disadvantages. They're distinct techniques of stitching and each has its benefits and downfalls.
It depends on your personal preference and end goal which method you choose. If you're a beginner, it's better to start with hand embroidery until you learn the basics of the practice.
Hand embroidery provides more personal and artistic work. It's the perfect manner to create a one-of-a-kind heirloom or something else that will make you proud of your skills.
The process requires patience and time. It's time-consuming. However, it's also relaxing and exciting. It's a great way to express your creativity and add a personal touch to your projects.
Hand embroidery can help your pieces stand out. However, it all depends on your skills with the needle. Machine embroidery, on the other hand, saves you a lot of time.
It also delivers more professional-looking work a lot faster. The wide selection of built-in patterns offers everything you need for small businesses and personal use as well.
Some small companies focus on monograms while others prefer to embroider men's caps. All these uses need the professional outcome of a specialized embroidery machine.
The same goes for sewers who want the flexibility that a specialized embroidery unit brings to their task. They can apply decorative details to basic projects like curtains or placemats.
Or add cartoon characters or animals to their kids' clothes. As you can notice, even the tiniest details can add value and interest to all kinds of everyday items.
If you're new to embroidery, your lack of experience doesn't limitate your choices. Even the best artists had to begin with their first piece. If you choose machine embroidery, you won't need any experience to make your first project. You have all you need on YouTube.
Just choose what you want to make and in what shade. The embroidery machine will do the rest. If you prefer hand embroidery, know that it's time-consuming but also relaxing.
FAQ
Conclusion
If you're reading this, it means that you stuck till the very end which is a good thing. This means that you have great potential to become the best at this craft.
It requires a lot of patience which you have. Hopefully, you know more about this craft after reading this detailed embroidery guide than you did before.
If you find my embroidery stitches guide for beginners helpful, share it with your friends. Also, feel free to share your thoughts and questions in the comments.