Do you love sewing? Do you love embroidery? Now you can stitch your idea using one of the best embroidery machines. Whether you're seasoned in embroidery and sewing or a beginning designer, your embroidery machine makes all the difference.
Embroidery demands high precision to create the detailed designs of your imagination. The market is full of embroidery machines. How can you find the best machine for your home or business?
Luckily, I'm here to help you narrow down your choices. We will learn a bit about embroidery machines, review the best of 2023 and then you can find the best embroidery machine for your needs. Here we go!
What is an Embroidery Machine?
Before I jump right into buying the best embroidery machine, let's figure out what an embroidery machine is.
First off, An embroidery machine is more than a sewing machine. Embroidery patterns will be more detailed and textured. Embroidery is truly art. Embroidery machines help that art to come alive. Much like hand embroidery, they rely on looping and creativity. Machine embroidery can create detailed embroidery patterns with speed and precision.
What is an Embroidery Machine Used For?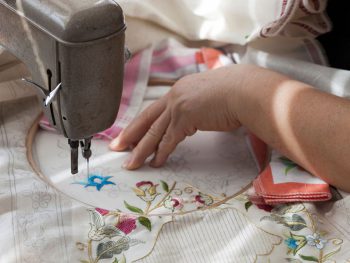 Now that you know what embroidery machines are, it's time to learn what they are used for. The uses of embroidery machines are as diverse as the people who embroider.
Embroidered Keepsakes
One of the greatest things about embroidery is you did it yourself. This makes it a perfect keepsake. You can give your embroidered keepsake to friends or family. They will remember you, and your talent, forever!
You can sew a keepsake to frame or an embroidered ornament. They will cherish your craft for a lifetime!
Quilt Squares
If you're a quilter, embroidery can only make your quilts more beautiful. Personalize each square with flowers, figures, or words. You can add any design to your squares to make your quilt truly unique.
Make Store Bought Clothing Special
Anyone can buy a shirt or hat from a store. Now you can make those normal items one-of-a-kind! Your clothes won't be boring or like anyone else's. Add your initials, a swirl, or even a purple cat if you want!
Give The Best Gifts
It can be difficult to give gifts. How can you give the best personalized gift? The answer is embroidery! Embroidery makes each gift special. If you know what your friend likes, simply embroider that onto anything! Sew a car for a car lover or a rose for a sweetheart, you get the picture!
Monogram
Make your towels and pillows truly yours. Initials can be bold or flowing. Embroidery machines help you to embroider your own monogram onto anything you like!
Jewelry
Did you know you can even embroider jewelry? You can make cloth pendants, headbands, earrings and more using an embroidery machine. And, of course, you can add any design to your creative jewelry!
Clothing Labels
Embroidery machines can be used for more functional purposes, too. Keep your items safe by adding your initials to the clothing label. You can even add an entirely unique clothing label to any article of clothing. This is especially useful if you have your own clothing business.
Create Your Own Custom Hats, Shirts, Pants, Anything!
You've seen a big list of things you can make. You might be wondering if you can make absolutely anything using an embroidery machine. The answer is YES! You can! Any design in your imagination can go on any fabric you desire.
Different Types of Embroidery Machines
You have learned the many different things you can make using embroidery machines, now I'll explain the different types of embroidery machines.
Mechanical Embroidery Machine
Mechanical embroidery machines are less expensive and more simple to use than other embroidery machines. They are usually used for smaller projects. You may not have enough options for stitching, but it might be a good type of machine to start on.
Electronic Embroidery
Electronic embroidery machines are very easy to use. Electronic machines usually come with a sewing unit. The sewing unit lets you do regular stitching. The embroidery machine part of it lets you do embroidery stitching. Electronic machines have more options for designs and patterns. They are capable of more, but also cost more.
Computerized Embroidery Machines
I've saved the most expensive and advanced machine for last. Computerized embroidery machines create stitches and patterns digitally. These machines have multiple stitching needles. They create amazing designs with the help of a frame holder to secure and move the fabric that you are embroidering.
Computerized embroidery machines use gridded designs. They read specific x and y coordinates to make the perfect pattern. The best part? You simply enter your settings and watch the machine work!
How to Find The Right Embroidery Machine
The best machine for your sewing projects depends on your design needs. Whether you have a home embroidery business or you embroider for fun makes a difference when choosing the best machine for you.
Think about your personal needs. Figure in your budget. Then read the reviews and pros and cons of different embroidery machine in the next section to pick the best embroidery machine.
Best Embroidery Machines – Comparison Chart 2023
See this chart to help you decide which embroidery machine is right for you. If you want a portable embroidery machine pay close attention to the weight. If you like to multitask you might like a combination sewing and embroidery machine. The more built in embroidery designs, the less you need to download from software. Take a look!
Top 12 Embroidery Machines to Buy in 2023 Pros and Cons
Maybe you already have a few machines in mind from looking at the chart above. But don't make your decision too hastily! I've taken a closer look at the perks and possible pitfalls of the top 12 embroidery machines. Some offer very interesting advantages over other machines, so read carefully.
1. Brother SE400 Combination Computerized Sewing and Embroidery Machine
Let's start with this one, a personal favorite. But even if you don't believe me, you can believe 9 out of 10 customers. This machine won the 2018 Women's Choice Award. It is a machine that many buy and many love!
This machine is relatively easy to use. It has a lot of stock patterns, but they aren't the best. Luckily the purchasable software allows you to download pretty much any design in the world. You can easily switch back and forth between sewing and embroidery. And luckily, it is still specialized enough for very detailed and professional work.
Pros
Gives you the option to sew or embroider
An LCD display and helpful computer options
Ability to import embroidery designs by the thousands
Self-threading needle
Cons
Too many pre-loaded patterns suck up memory
Occasional problems with the bobbin thread
2. Brother LB6800 Embroidery and Sewing Machine
This one isn't yet an award winner, but it is a 'Brother' and comes highly recommended. It is a great combination of price, capabilities, and beginner-friendly. I can't believe how quickly I went from beginner to embroidering master using this machine.
Some people seem to think this machine isn't as high quality. But simply read the comprehensive instruction manual. You learn how to take care of it and avoid needless damage.
Pros
User-friendly
Ability to import embroidery designs by the thousands
An LCD display and helpful computer options
Accurate Foot Pedal
Portable
X-Y table automation
Cons
Not easily Mac compatible
Occasionally inconsistent thread tension
Sewing functions more consistent than embroidery functions
3. SINGER Futura XL400 Sewing and Embroidery Design Machine
Now I will move on to a Singer machine. I love how this machine has so many built-in embroidery designs. This is especially useful if you are not interested in using other software to find designs.
Singer sewing machines are a classic. And you get all the sewing benefits, plus a computerized embroidery system in one!
You need to give yourself time to learn the machine. But the manuals and Youtube videos will be worth your time when you see your designs.
This embroidery machine has a 10-by-6-inch hoop option so you can even embroider something as large as a bedspread.
One of the best things about this Singer embroidery machine is the amazing LCD screen. You can customize colors and designs using the screen. If you can believe it, the view looks exactly like the stitching will appear.
Pros
125 built in embroidery designs
3D screen view
Large embroidery hoop option for large projects
Automatic needle threader
Cons
Heavier machine
Occasional tangle on the spool stand
4. Singer Futura XL-550 Embroidery and Sewing Machine
This machine is another Singer classic. It has 215 stitching functions. The sewing functions seem to work better than the embroidery at a first glance. But if you take the time to teach yourself the embroidery can be just as rewarding.
I would use this machine as a nice transition from a traditional seamstress to embroidery. If you eliminate operator errors it works just as it promises. This means understanding the bobbin case, tension, and needles and how they relate to your project.
Pros
Large work area
Extra straight seams
Cons
Feed dog control problems
Learning curve for software use
5. Brother PE540D 4×4 Embroidery Machine
Now back to a Brother manufactured machine. This fun machine is embroidery only. So if you are focused on embroidery more than sewing–and you love Disney, it's your perfect machine! Yes, I said Disney. This machine has 35 Disney designs built in. It's a go-to machine for making your kids happy.
The Brother PE54D is an incredibly easy beginner machine. It has easy to use buttons and a very user friendly manual complete with pictures to stitching right away!
It is a bit slow, however. It only stitches at 400 stitches per minute, but for home use this isn't a problem. It is not industrial quality, but it is an inexpensive and fun machine for home use.
Pros
35 Disney designs
Inexpensive
Built in tutorials
User friendly
6. Brother SE1800 Sewing And Embroidery Machine
If you're like me, you like to combine designs. The Brother SE 1800 makes that possible–and easy! It comes with a 5×7 inch embroidery space. The frame is 5×12 inches and can be positioned in multiple ways. The possibilities are endless!
I can't imagine you'll get bored of the 184 stitching options or the 136 built-in design options. But if so, you can always use the USB function to download endless embroidery designs.
You will finish your projects faster and with less stress to your wrists with this machine. It has horizontal sewing so you don't need to rotate fabrics as often.
Pros
11 sewing feet
Large embroidery field
Huge design options
7. Brother SE600 Computerized Sewing and Embroidery
This light weight machine still offers sewing and embroidery in one. It is reasonably priced for being dual use and doesn't compromise on creative opportunities!
If you are keen to utilize technology, Brother brands are a great way to take your embroider a step further. The automated functions and design download possibilities put you at the cutting edge of embroidery without breaking the bank.
Pros
Large touch screen display
Quick set-up
Quiet working volume
Cons
Embroidery software not included
8. Brother PE800 Embroidery Machine
Don't work in the dark. Never underestimate the power of a well-lit work station. This embroidery machine has an LED light system right around the needle. I found this especially useful when embroidering on dark items.
It delivers the technological perks that we're used to from Brother embroidery machines. Though the display screen is slightly smaller than the Brother SE600, it is still large, LCD, and in full color. It also has a color palette so you can adjust your threads one by one.
As long as you don't need the sewing capabilities, this embroidery-only machine is a winner! Apart from occasional small issues with metal bobbins it is a very satisfying embroidery machine.
Pros
Large embroidery field
LCD display
Well-lit work space
Fast stitching
Light-weight
Cons
Embroidery only
Small issues with metal bobbins
9. Brother RLB6800 Sewing and Embroidery Machine
This Brother machine combines the technology we love with embroidery and fashion sewing capabilities. It is also incredibly easy to set-up. You can go from out-of-the box to embroidery in no time. The features are intuitive and require less tutorials. This leaves more time for the fun stuff: sewing and embroidering!
It doesn't have the large embroidery area that the Brother SE1800 has. But the LCD touchscreen might make up for the 4×4 embroidery area.
Pros
Easy to use
LCD screen
Sewing and embroidering functions
Cons
Smaller embroidery area
Less built-in designs
10. Brother SE1900 Sewing and Embroidery Machine
The Brother SE1900 has just as many built in embroidery designs as the Brother PE800. But with one big extra–it sews as well! It even has 240 built-in sewing stitches.
A 4×4 hoop might be enough for a beginner. But if you really want to advance you may need a larger embroidery hoop. At 5×7 inches, this machine has it.
Yes, it's perfect for the more experienced. But it also offers simple tutorial right on the display screen if you ever need some support.
It is substantially heavier than some other Brother embroidery machines. It makes up for the weight with its plethora of built in designs, fonts, stitches and functions.
Pros
User friendly
Helpful LED screen
Many built in designs
Cons
Occasional issues with bobbin winder
Heavy weight
11. Brother PE535 Embroidery Machine
If you really want to improve and show off your embroidery, this machine allows you to do it. It is easy enough for a beginner, with enough options to keep an expert entertained.
You will love the function that allows you to edit the embroidery lettering and fonts. You can make your lettering written on a curve or angle. If you really like typesetting, you can even change the space between the letters and embroidery text on multiple lines.
I am amazed by the 3D designs which are built in. You can make a range of freestanding 3D projects, including ornaments and wall hangings.
Pros
Successfully embroiders on thicker fabrics
Unique font capabilities
Touch screen with drag and drop function
Light weight
Cons
Smaller embroidery area
No sewing function
12. EverSewn Hero – 400-Stitch Computerized Sewing and Embroidery Machine
The EverSewn Hero gives you embroidery and sewing options. It only has 40 built-in embroidery designs but has over 400 built in stitch options.
It is powerful enough for thick fabrics as well as precise patterns. I am impressed with the three options for the LCD screen. It makes jumping from sewing to embroidery a breeze!
It is a beautiful and sleek machine and certainly appears cutting edge. I still miss the automatic thread cutter, though!
Pros
High stitching speed
Sewing and embroidery in one
User friendly
Cons
Some software and file conversion issues
Price
What Supplies Do I Need for An Embroidery Machine
Now you know which embroidery machine to buy. Now don't forget your embroidery supplies. Many online retailers send you on your way with a complete package. But here are a few embroidery supplies you can't live without.
Embroidery Hoops
Embroidery machines should all come with hoops, but it might be a good idea to purchase a back-up to prevent any delays should one break mid-project. Embroidery hoops come in different sizes, so be sure to check your machine's specifications before buying.
Stabilizer
You should have at least one cut-away, one tear-away, and one wash-away stabilizer, plus a water-soluble topping.
The topping is used over napped fabrics and items like towels to keep the stitches from sinking into the fabric pile. There is a HUGE difference in the appearance of designs stitched with or without!
A stabilizer topping is placed on top of certain fabrics. It helps to make sure the stitches don't sink into the fabric. You might get away without a stabilizer, but they will improve the quality of the design big time!
Stabilizers come in different types. There are cut-away, wash-away, water-soluble, and tear-away stabilizers. Buy at least one of each to have on hand for all of your embroidery needs.
Needles
I have already stressed the importance of understanding and replacing needles. It is just as important to have many extras on hand to avoid any delays. You don't want to be forced to use the wrong needle for the job and risking damage to your product or machine.
Needle types and sizes vary according to the fabric of your project. They usually correlate with the size of the fabric. Thicker fabric means thicker needles.
Whether you use ballpoint, regular, or titanium needles depends on your embroidery project and sometimes your budget.
Thread
This sounds obvious enough. But choosing the right thread is as important as choosing the right embroidery needle. You will need both bobbin thread and embroidery thread to complete your embroidery designs.
Bobbin thread is usually lighter weight. You don't have to worry much about the color of bobbin thread because it usually is unseen.
The embroidery thread will be thicker, around 40 wt. Here you can go wild with your colors, types, and even the shape of your thread. You can buy a trilobal thread which gives your colors a shinier look. Rayon threads are gorgeous and will also accomplish this shine, though they are not as tough as other threads.
Scissors
Whether you are using the embroidery function or doing basic sewing, don't go far from your scissors! There always seems to be some thread tails to take care of! Curved-tipped scissors are even more convenient.
Where to Buy An Embroidery Machine
Finding an embroidery machine near you can be as easy as a google search of 'embroidery machines.' Some people prefer to find a sewing and embroidery machine retailer in the area. If you like to talk face-to-face to someone to ask questions, this might be your best bet.
Many will prefer the online shopping option. You can view, compare, and consider many different machines at once. Once you have a specific machine in mind, you can also buy online. Be sure to pay attention to the reviews from my previous section and double check that the machine you are ordering comes with all the supplies and parts you need to get started!
Embroidery Machine Designs
If you buy an embroidery machine with hundreds of built-in designs, you might not ever need to worry about making or finding your own. But if you want more, there's a few ways to add to your options.
Make your own
If you're an artist or looking for a very personalized design or text, the built-in designs won't cut it. You will be keen to transfer your own designs to your fabrics. Once you're happy with your design make sure it is in the right format. You can check your embroidery machine's specification software to find out what format your design file needs to match. Use a USB stick to transfer your file to the embroidery machine using the machine's USB port. I suggest getting a large USB memory so you can double-save your files on the USB port for future use.
Finding ready-made designs
Did you find the perfect design online? You can also transfer these to your embroidery projects! The sites specializing in this are numerous. Be sure the site is compatible with the format you need and the machine you're using. A few sites you can start with are:
4-hobby.com offers some free designs and a range of designs for a price. I especially like their selections for quilt blocks.
Advanced-embroider-designs.com offers a free monthly design for your embroidery machine. They also have plenty of paid designs a well.
Once you find a design that suits you, download and use your USB to transfer the file to your machine.
Pros and Cons of Machine Embroidery
Advantages
From my perspective, it's hard to find too many disadvantages of machine embroidery when compared to hand embroidery. The advantages of using an embroidery machine are many.
Time-saved
Embroidery machines are quick. Once your design is set, the machine gets to work. Giving you more time to work on your embroidery business or to come up with more embroidery patterns.
Hand embroidery can take hours for just a few inches of embroidery. If you are hoping to sell your embroidery designs, this time spent can cost you loads of profits.
Precision
Embroidery machines are becoming very precise. You can embroider details with ease. Computerized embroidery machines allow you to monitor the process all along the way with an LCD screen. You can also make fine adjustments easily along the way.
Hand embroidery is open to all sorts of personal errors. If your hands are tired, or your eyes are straining, you are more likely to make an error in stitching. It takes the computer a lot longer to make mistakes from exhaustion!
Creative Options
While hand embroidery is no doubt artistic. If you are not especially skilled in fine-motor skills, you can still design and create amazing embroidery patterns with an embroidery machine.
Maybe you're a graphic artist. The software, USB, and design functions of an embroidery machine can make you an embroiderer in a snap. You can easily use your design skills to create exactly what you want.
Disadvantages
Some of the advantages of machine embroidery are also disadvantages. I'll explain.
Personality
Sure, you can add your personality and creativity by uploading unique designs. But there certainly is something special in something being truly one-of-a-kind. A hand embroidered piece might have a small glitch that gives the embroidery character.
Simplicity
If you are tired of technology, hand embroidery may be very therapeutic. If you have the skills in hand embroidery, nothing can stop you. You won't be dependent on the constraints of software or electricity to stitch your designs.
How Do Embroidery Machines Work?
Computerized embroidery machines are the preferred machine nowadays. Why do something manually that you can now do digitally? Because of this, I will focus on how computerized embroidery machines work.
Before the machine starts stitching there are a few important preparations to be made.
Design and Format
First you need the design. You can start with a built in design, upload one from the internet or use one from a personalized design file.
Once the design is there it is key to make sure the files are compatible. The formats need to match so the computer in the embroidery machine can read it and create a true-to-design embroidery. Many machines use a USB port to get the image from computer to embroidery machine.
Time to stitch!
Finally, the machine will start stitching. You choose needle size and color through the software depending on the design you have entered. There is a top thread and a bobbin thread at the bottom. Threading from top to bottom, a loop is created. And off she goes!
How Much Does A Good Embroidery Machine Cost?
You have heard all the embroidery ideas. Are you ready to buy an embroidery machine now? The cost of embroidery machines is wide ranging and depends on many factors. There are several features embroideries are willing to pay more for.
Embroidery plus sewing functions
This two-in-one machine is becoming more popular as sewing enthusiasts are eager to branch out into embroidery. Many of these machines have ample sewing features such as built-in stitching patterns and high-speed stitching. They also have the power to embroider thick materials as per your needs.
Built-in Designs
Embroidery machines can come equipped with hundreds of built-in designs. This helps you to get stitching right away on any material you want. Buyers may also spend more to have additional frames, fonts, and specialty designs.
Hoop size
The frame, or hoop, keeps the fabric in place when you're stitching. The larger the frame, the larger space you can work with. If you want to embroider sheets, tablecloths, curtains or other large items you will spend more for a bigger hoop size or different hoop size options.
Display screen
A vivid LCD display screen can make all the difference in your design work. You can pay for features to make your embroidery more simple. Screens allow you to choose thread size and color. You can also edit your design on the advance screens. Some screens will even offer their own help and tutorial sections. I would definitely pay more for a larger screen to avoid eye strain and ensure quality details.
Tips for Beginners
Completely new at using an embroidery machine? Don't be scared. This is crazy, but even an absolute beginner can make amazing patterns using an embroidery machine. Here are some tips to help you succeed.
Give your machine a home
I think this is the most important tip. Plan out and prepare a suitable place for your embroidery machine and all your supplies. Lots of space is best, but accessibility is most important.
When your machine is all settled, don't forget yourself! Think about what keeps you calm, focused, and creative and adjust your space accordingly. I like to work with lots of inspiration. Some others like a very simple and non-distracting environment. You do you!
Small Steps
Start with a small, simple project. Not only will it be easier to wrap your head around, it will also leave room for mistakes. It's better to mess up on a small project than make a mistake at the end of a larger complicated one.
Test it out
With every new thread, needle, stabilizer and fabric comes a new outcome. Sometimes these are problems, sometimes the combinations are amazing. In any case, be sure to cut out a test area to try on before jumping right into your main fabric piece.
You can build your embroidery techniques and your confidence before you tackle more detailed patterns.
Reflect
Don't forget to learn from your mistakes (and your successes!) Use a journal or a text document to track your ups and downs. Record which materials you used, problems encountered, what went well, as well as ideas for the future.
Embroidery Machine Maintenance
You've decided to buy a machine to make your fabric designs. You might be asking how long embroidery machines last. The life of your machine depends on both quality and how well you take care of it.
Whether you choose to buy a cheap embroidery machine or an expensive one, here are some tips for keeping it up and running.
Read up
Many machines are highly intuitive. That is no reason to ignore the manuals. Many problems can be fixed with just a few tweaks and proper preparation. Repeated avoidable mistakes can wear down the delicate parts of an embroidery machine.
Replace needles
If you don't replace the needles as the become worn, you will run into more stitching problems. The more times you need to restart will wear down the machine over time. Keep your machine precise by changing the needles often.
Cover it up
No matter how neat you keep your home, cover your embroidery machine! Your home is filled with dust and particles that can enter your machine and affect the small parts. They can cause damage over time and send you to the repair shop more often.
Clean, Oil, Repeat
Keeping your embroidery machine clean seems obvious. But you also need to keep it oiled. Oiling your machine keeps it running smoothly and keeps threads from breaking. Be sure to clean your machine thoroughly before oiling it for maximum results.
In Conclusion
I have enjoyed exploring the ins and outs and ups and downs of embroidery machines. I hope you have a better understanding of how you can choose an embroidery machine for your home or business. And most of all, I hope you have fun with your embroidery!