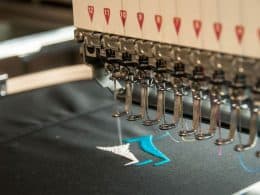 Embroideries will never go out of fashion. However, getting the nicest monograms requires a good quality embroidery machine. So, can you upgrade your passion and turn it into a business? Luckily, if you have skills, machinery and a good place to start, why not?
The best embroidery machines suited for a home business will not only make you handle the competition in this market but also put your imagination in practice. Thankfully, there are lots of good embroidery machines that entrepreneurs can expand their business with.
Today is about an introduction to the best embroidery machines for home businesses, with pros, cons, reviews and personal experiences. Choosing the very best machine for a home business can be overwhelming at some point. Let's dissect each of them and see which model suits you best.
Best Embroidery Machines for Home Business 2020 – Comparison Chart
Before starting the actual reviews, I made a comparison chart to help you see what characteristics each product has and what are the main differences between them when compared.
Top 10 Reviews of the Best Embroidery Machines for Home Business in 2020
You've reached the most important part of the article – the reviews. After reading the comparison chart, you've probably made an opinion on what kind of embroidery machine for your home business you would like. Now, it's time to read the full disclosure of each product, with both good and bad parts.
So, make yourself comfortable and check them out!
1. Janome Memory Craft 14000 Sewing and Embroidery Machine
(Best Number of Built-in Designs)
Janome designed the MC14000 model, to help you take your sewing and embroidery projects at a new level. With a wide range of built-in stitches – 400 and a very impressive number of built-in designs – 350, this product will turn any home business into a successful one.
It has a speed control that can vary from 600 spm to a maximum 1000 spm, making it very easy to take large projects into consideration.
Probably one of its best features is given by its full-color LCD touchscreen. With its help, you can easily navigate through the settings.
Pros
Very big number of built-in stitches and embroidery designs;
Easy to use;
Comes with many accessories.
Personal opinion:
I must confess that the only thing that kept me from making this product my editor's choice is its price. It is a very qualitative sewing and embroidery machine, but for a home business, I think the price is not suited.
Other than this aspect, I think that is a dream model and that every person who will have the chance to work with it will fall in love. It returns great quality stitches and the Stitch Composer program will permit you to design and edit stitches right from your computer.
2. Janome MB-4S 4 Needle Embroidery Machine
(Best Industrial Design)
If you are looking for an embroidery machine that is suited for your home business but has an industrial look, then the MB-4S from Janome is exactly what you need.
It comes with 50 built-in designs, including 2 and 3 letter monogramming but also 10 fonts for monogramming. It has a maximum speed of 800 spm, but the coolest part about it is given by its 4 needles that will help you work better and faster.
Pros
Very beautiful;
Has a big memory capacity.
Personal opinion:
Every time I see this model, I can't look at it without being impressed by its looks. However, beauty is not its only quality. It comes with built-in designs, offers USB connectivity and has a great memory – 3 MB (100 embroidery designs or 1,500,000 stitches).
If you are a small home business, you might find the Janome MB-4S to exceed your budget, but this is the only disadvantage that I can find related to this product.
3. Janome Horizon Memory Craft 9900 Sewing and Embroidery Machine
(Greatest Number of Features)
The 9900 embroidery machine from Janome is a wonderful piece to have. It comes with 200 built-in stitches and 175 built-in embroidery designs, permitting you to create unique designs without getting bored.
Its maximum sewing speed is 1000 spm, helping you to finish your work faster.
The 9900 model has a touchscreen LCD, that will help you set up your stitches and embroidery designs and also a memory capacity of 3MB.
Pros
Easy to use;
Multiple built-in stitches and embroidery designs.
Personal opinion:
The 9900 sewing machine from Janome can be bought with red or blue highlights, depending on each one's preferences. It is very easy to use, so it is suited for any kind of skilled person.
It is a model that is full of features, probably more than other embroidery machine models. I really do appreciate that it comes with 5 LED lamps that will aid your visibility when working.
Yes, it's not the cheapest embroidery machine, but also it is not the most expensive. This is why I think that it is a great model for a home business.
4. Brother SE1900 Sewing and Embroidery Machine
(Editor's Choice)
The editor's choice for the best embroidery machines for home businesses is represented by the SE1900 from Brother. The product comes with vast built-in features – 240 built-in stitches and 138 embroidery designs. If you think that its proposed designs are not enough, you can always import your own from websites such as iBroidery.com or different sources.
With a high sewing speed of 850 spm, but very easy to use features, the SE1900 can be used by probably everybody and is no wonder that it is the winner of Women's Choice award in 2020.
Pros
Great value for money;
Suited for any kind of user.
Cons
It is a little bit noisy.
Personal opinion:
If you just start your embroidery home business, there is no other machine that will give you better satisfaction. Yes, it is not the cheapest one, but it definitely is the best value for money that you can receive.
Probably the thing that I love most about it, is its feature called "My Custom Stitch" that will let you design your own stitches and save them for later unique designs.
This combination tool gives the best, in my opinion at least, sewing and embroidery adventure. However, I strongly recommend you to read its manual before actually buying it.
5. SINGER Futura XL-580 Embroidery and Sewing Machine
(Best for Converting Images)
Another great product suited for embroidery home businesses is the Futura XL-580 from Singer. Not only that it offers you the opportunity to pick from 250 built-in embroidery designs and 200 built-in stitches, but also comes with a bonus software, known as AutoPunch, that will convert any image you might want into an embroidery.
This model comes packed with lots of accessories, such as Zipper Foot or 4″ x 4″ Embroidery Hoop, that will make your business life easier.
Pros
Has the power to convert images into embroidery;
Easy to use;
Returns great quality.
Cons
Can be considered pricy;
Not the best for beginners.
Personal opinion:
I think that the best quality that this model has is its capacity of converting images into embroidery. Other than that, I cannot comment on other aspects. It sews qualitative stitches, but it is not cheap, so I don't think it should be the first option for a start-up home embroidery business.
However, I strongly advise you to read its instructions manual and understand more about how the Singer Futura XL-580 works.
6. SINGER Futura XL400 Sewing and Embroidery Machine
(Most Portable Embroidery Machine)
Another Futura model from Singer is the XL400. If you like what the Futura XL-580 can do, but you cannot afford it, then you should look at its little brother, XL 400.
The main difference between the two is given by the number of stitches and embroidery designs that each one has included. Even though it is the less expensive version of Singer Futura, XL 400 offers 125 embroidery designs and 30 built-in stitches for you to choose from.
Pros
Great value for money;
Can be connected to the computer;
Portable.
Cons
Needles tend to break;
Doesn't offer Mac compatibility.
Personal opinion:
First, let me tell you what I like about this model. I really appreciate its portability because it is hard to find an embroidery machine that you can travel with. Second, I like that you can work on a big embroidery area.
Now, for what I don't like. I managed to break multiple needles at first and since it is portable and I have a MacBook for when I travel, I would have liked it to be compatible with Mac.
However, it is a good value for money and if you are looking for an embroidery machine for the purposes I've mentioned, you should not pass without considering it. You can read its manual to better understand what it can do.
Watch the video below to find out how to properly work with this model:
7. Brother SE400 Sewing and Embroidery Machine
(Best for Beginners)
Another great embroidery machine from Brother is their SE400 model. You can choose from 67 built-in stitches and 70 built-in decorative design to work with. Offering 98 stitch functions, 5 lettering fonts and 120 frame pattern combinations, the SE400 embroidery machine is the best one I can think of to recommend for a beginner.
It has a very appropriate speed for an entry-level, 400 spm, a very easy to use LCD, a quick start guide and also built-in tutorials.
Pros
Very user-friendly;
Great for beginners;
Qualitative results.
Cons
Can be considered pricey.
Personal opinion:
Yes, this embroidery machine doesn't come cheap, especially for a beginner that just starts its home business embroidery career. However, it is an amazing piece and it is no wonder that it won the Women's Choice Award in 2018.
The best part about it is that if you get bored with the embroidery designs that comes with, you can always download more from websites such as www.ibroidery.com.
Check out its instruction manual and the video below for a better understanding of this embroidery machine:
8. Brother PE550D Embroidery Machine
(Budget Pick)
If you are starting an embroidery home business for children clothing, then the Brother PE550D model is what you need. Not only that it is great for people that are on a budget, but it also comes with 125 built-in decorative designs that include 9 fonts and 45 Disney designs.
For easy browsing through the settings, this product offers a large screen. With its help, you will be able to arrange the embroidery letters any way you want – curves, multiple lines, and so on.
Pros
Disney designs;
Incredible price.
Cons
Doesn't have built-in stitches;
Not very user-friendly.
Personal opinion:
I am a very big Disney fan and even though I am long gone from my child's years, I still like to wear childish clothes. Because of this, the PE550D model took my attention from the moment I saw it comes with Disney embroidery designs.
I like the fact that it also offers the possibility of importing own designs with a USB and that it has a built-in memory.
Other than the fact that it is not the most user-friendly embroidery machine, I can't find any reason why people should not love this product. Probably, this is why it won the Women's Choice Award in 2018.
9. Brother PE800 Embroidery Machine
(Best Phone Support)
The last Brother embroidery machine I want to present today is the PE800 model. It comes with 138 built-in embroidery designs that include 11 built-in fonts and 10 frame designs. However, if you feel like needing more, you can always import your own.
It has a 5" x 7" embroidery field that you can work on, making it easy to take in larger embroidery projects. It offers an LCD screen that not only lets you browse through the settings, but it also gives you a view of how the edited design looks before sewing it.
Pros
Good value for money;
Large embroidery field;
Touchscreen LCD.
Cons
Needle thread can cause some issues.
Personal opinion:
Winner of 2018's Women's Choice Award, the PE800 embroidery machine is a product that could bring benefits to any home business. It has a decent price, it returns good quality and it comes with a great number of built-in designs.
The amazing part about this model is that not only it has 25 years warranty, but you also receive the possibility to have free phone support for life.
Even though it is a wonderful embroidery machine, I recommend you to read its manual before taking any decision regarding it.
10. Janome Horizon Memory Craft 12000 Embroidery and Sewing Machine
(Best Number of Built-in Stitches)
If you are looking for an embroidery machine that has a great number of built-in embroidery designs, but also built-in stitches, then the Janome 12000 is the one for you.
With 425 Built-in stitches, including 13 One-step buttonholes, 338 Built-in embroidery designs that include 10 fonts with European characters and a 1000 spm speed, this product will be your dream embroidery machine for your home business.
Other great features worth mentioning are its full-color touchscreen LCD and its memory capacity of 4MB.
Pros
Comes with a lot of accessories;
Premium quality;
Great light.
Personal opinion:
The Janome 12000 embroidery machine is just amazing and every sewer would be lucky to be able to work on it. It doesn't make a lot of noise, returns premium quality and is loaded with features and accessories. It is great for sewing, embroidery, quilting…you name it and this machine knows how to do it.
However, it is not cheap, so if you are the beginning of the road with your home business, you may find it to be out of your budget.
Check out the online tutorial below to make an objective opinion:
What Does Having an Embroidery Business Actually Means?
If you are interested in starting a business that will take advantage of your creativity, then start an embroidery career from home. Once having the most important item, the embroidery machine for home business, here are the reasons why you should not stop your dream by becoming true:
It's not a messy career: due to the special design of the embroidery machines, you won't need to always clean after yourself.
Small Space: unlike other huge mechanisms, that embroidery machine for home usage will fit almost everywhere. You just need a desk to place the item and start working in the favorite spot from your home.
Small supply costs: here I am referring to the small supplies that don't cost as much as others would do. You just need to constantly buy embroidery backings, toppings, needle or embroidered patch materials, which are really nothing for the budget.
You need just your creativity: how cool is using your creativity and making money off of it?
Customers are right at the corner: you can find lots of customers, as every big brand needs your service, especially if it's less expensive than the big companies offer. Still, it doesn't mean you won't need to marketize your business.
Profit: some might not want to tell you this, but yes, home-based embroidery business is very profitable. One of the main reasons for that is given by the low cost of embroidery supplies.
Portable equipment: most of the embroidery machines for home business have wheels, small footprint or large SUV and can be taken on the road. Also, you can move the equipment everywhere in the house.
Which are The Various Sorts Of Embroidery Items?
So people can know exactly what they are buying, they should also be aware that there are three traditional categories of embroidery types of equipment:
First, there are built-in patterns, which don't come with downloadable options;
There are those models which are integrated and link through the internet;
The mixed models that can be imported with a USB port.
If we talk about the most practical ones, let's say that the ones with built-in patterns are the most effective offer. The final cost is around 30% less than the various other types and it will allow you to make some adjustments so you can fulfill the most creative ideas.
For the ones who want to begin with a more professional-grade machine, then either of the choices above is a good choice, as long as it has the features you are looking for.
Which are The Main Features of an Embroidery Machine for a Home Business?
So, finally you have arrived at the point when you are looking for the perfect sewing machine for home business. Now, as important is the decision of opening your own business, as much you should pay attention to the features of your main equipment. Here are the first characteristics that enhance the work of embroidery machines for home business:
Reliability: Everyone should look for an embroidery machine for a home business that functions well, so it will complete any embroidery task without any problem.
Personal vs Commercial: usually, a common and regular sewing machine won't handle too much work. A commercial embroidery machine model would be the ideal choice, as it can do lots of embroidery work in a short time. Although, keep in mind that the commercial embroidery machines are not as cheap as the regular ones.
Regular or combined work: There are multiple dedicated embroidery machines that are used for embroidery associated tasks only. However, there are many embroidery machines which can be used for normal sewing related tasks and not only for the embroidery work.
Dedicated or combined work: if you are looking for embroidery work from home, then you might need a dedicated embroidery machine to do the tasks. But the combined ones are also good. Check the reviews above to make sure about the one that suits you best.
Innovative: since the embroidery machines for home business are a heavy investment, I would advise anyone to choose a mechanism that comes with memory support, computer connectivity, and all the other modern functions.
Embroidery Area: One of the most important features to consider is the embroidery area. This is actually the working space, which can range from 4" x 4" up to 10.0" x 6.0". A larger area means that you might pay more, so consider what kind of projects you will be doing before choosing the widest area for no reason.
USB Compatibility. The modern embroidery machines for a home business should have not only pre programmed patterns but also USB ports. This way, the user can upload his own patterns. There are many online communities that provide free patterns. With a USB port, you will have a tone of embroidery patterns to play with.
Sewing and Embroidery 2-in-1 Machine. I would recommend embroidery passionates not to limit themselves to the embroidery option. Instead, it would be great if the machine would have also the sewing features. The disadvantage is that they might be slower, would have fewer patterns and smaller work areas. It's always a compromise.
Internet Access: How cool it would be to have internet access on your business embroidery machine? This way, you can directly connect to the favorite online patterns. Also, these machines offer a great ability for maximum design creation.
Buyer's Guide
Let's be honest. When you are thinking about starting your own embroidery business, buying the tools you need are a crucial decision. In order to choose the best embroidery machines for home business, follow these guidelines:
Space
How much dedicated space do you have? Machines do come in different shapes and sizes. Although most of the embroidery machines come in average size, you need to consider the space you have before purchasing any. Weight your options, as I'm sure you want to buy a machine that fits your work table.
Brand
The next thing to consider while buying an embroidery machine for a home business is the brand. There are so many brands that have great products in this market. For instance, Janome, Singer, and Brother are some of them.
These brands are very promising in features and functions. Plus, once you buy from a popular brand, the machine will have a warranty and service for a longer time. Be careful if you spend less on cheap non-branded machines.
Type of Embroidery Business
The type of embroidery you are going to do is crucial when investing in a machine. Are you going to do monogramming? Then the handle monogramming machines are the answer. But in case you want to do embroidery for caps and hats, then a machine fully optimized with lots of features is the best choice.
If you are already professional in your work, then look for a very good embroidery machine and invest the money that this work will give you back.
Hoop Requirements
One of the most important requirements when choosing an embroidery machine for a home business is the hoop-delivering. If the machine cannot take on bigger types of designs, then you might need to reposition the hoop and to do the work manually. This is so time-consuming and great work labor.
If you can afford, look for an improvement in the hoop section.
Cost Efficiency
Before making any purchase, set your budget. Then invest in the appropriate embroidery machine after determining the return on investment or the average that machine gives you per month. I would recommend everybody if they are at the very beginning of the embroidery home business to take it step by step. Make a small investment at first, then upgrade your tools as the business will flourish.
Digital Era
In this digital era, is such a pity not to invest in an embroidery machine that comes with computerized options. All these will make your work easier and obtain cool designs that are hard to create all on your own.
Fabrics You are Working With
Not all machines can handle every kind of fabrics. Before purchasing the new embroidery sewing machine, please focus on the fabrics you are using frequently and then see if that machine is suitable for your work.
The Number of Needles and Stitches Per Minute
Time is money, says a very wise word. And there is nothing more important than this when having your own home business.
When sewing was just a hobby, it didn't matter that you had to change the colors all by yourself. But when you have projects to be done as soon as possible, you need to invest in an embroidery machine that can save time and money.
Now, look for faster embroidery machines that come with lots of stitches and that can reach a high speed when embroidering. You can always slow down the speed of a machine, but if the mechanism is too slow for your business, you cannot do anything.
LCD Screen
If you deal with bad eyesight, it's good to look for the size of the screen on the future embroidery machine. Screen sizes vary, so one that is larger will make it easier for you to place the designs exactly where they should be. It's true that a smaller LCD screen would bring down the cost of the embroidery machine, but it can be really difficult to use small touchscreen control options, especially when you are tired.
Connectivity
Most of the good quality embroidery machines come with a USB port, which allows the user to import other designs directly from the computer. At least, people should look for a USB port, but remember that machines with SD card sockets or PC connection are much more useful.
Very professional models will have direct PC link, which is perfect for creating real-time alterations. Also, it will make different files formats easier to put in practice.
The Turnaround Demand
Will you have a really demanding customer base? If you already have a bunch of customers and you know that the demand will increase, then look for a very efficient embroidery machine, such as a multi-needle embroidery machine. Instead, if you are at the very beginning, and are going for a start-up in this domain, then a single needle machine will work just fine.
The Costs
Besides the machine, which is probably the most expensive, consider that you will need to buy and spend on threads, software, special hoops, fabrics and so on. So, before starting a business in embroidery, think and calculate all these costs in advance.
Ever Tthought of a Possible Grow?
While it might seem scary, don't hesitate to also think about a possible grow and business moves for expansion. Embroidery never goes out of fashion, so check the possible demands from future clients, as well as the gain of popularity this domain has. Then, choose the future equipment based on this analytics. Recognize your niche and then dedicate yourself to the embroidery expectations.
FAQ
Last Thoughts
Let's count together! How many of you have thought of opening an embroidery home business? Leave a comment with your plans and thoughts.
As experienced so far, embroidery is a gift, rather than a skill, and those who have the personal possibility to open a business based on their creativity are the lucky ones.
When it comes to the best embroidery machines for home business, what I can tell is that each person might have different options. This is why is important to read each review, each pro and con and then make the final decision.
To summarize it, even though my editor's choice is a Brother model, I think that if you have the budget for it, you should also look at what Janome has to say in this area.
Hope the advice above will be a good start for a prosper embroidery home business.