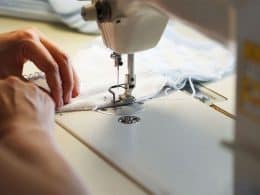 So, you have already learned how to cut your own clothes and feel enough confident to go to the next step. Forget about the old stitches and plan to make actual garments for yourself and even for the others by investing in a sewing machine for making clothes.
But this decision comes with so many questions, isn't it? How should you actually make the best choice? Every beginning sewist that wants to become the next big name in the fashion world needs a good quality sewing machine to enhance his or her work.
Down below you will find my top choices when it comes to buying the best sewing machine for making clothes, with pros, cons and detailed reviews. This way, you will know that future sewing projects will meet your fashion dreams. Let's start by comparing some of the coolest models on the market and then get all the details of them.
Best Sewing Machines for Making Clothes Comparison Chart 2023
The review chapter of the articles is long and some of you may not have time to read all of it. Because of this and especially for the people who want to compare some of the models, I made this comparison chart. You can check it out before the reviews and always come back later to confront the products.
Top 12 Best Sewing Machines for Making Clothes Reviews 2023
Well, this is the part you all have been waiting for – finding out the truth about each sewing machine presented in this article. Yes, I also will tell you about the minuses that these products have, minuses that the companies don't necessarily talk about. So let's find out what makes them good and what makes them bad.
1. Brother SE400 Computerized Sewing and Embroidery Machine
(Best for All Skills)
Produced by Brother, the SE400 model is an amazing product that can be used for anything – normal sewing, quilting or embroidery. You receive it with 67 built-in sewing stitches that have 98 stitch functions. You also get 70 decorative embroidery designs, including 120 frame pattern combinations, and 5 lettering fonts.
For browsing through the settings, the SE400 model comes with a wide LCD screen. The last feature that I want to talk about is its speed. The product runs at a 400 spm speed, letting both beginners and advanced users to be able to work with it very easy.
Pros
Can be connected to a computer;
Great price;
Great for learning.
Cons
The small designs don't return the best quality.
Can be tricky to connect to a Mac;
Sensitive needle.
Personal opinion:
When it comes to versatility and skill levels, Brother knows exactly how to satisfy all needs with just one product. The SE400 is perfect for sewing clothes but also for quilting and making embroidery. Also, it can be highly appreciated by both a beginner and a pro.
I don't want to say that this product doesn't have any issue, because it is not perfect. However, the minuses are less than its pluses. So you probably will not care too much about the fact that you need to struggle to connect to a Mac when you see how well this machine does in other aspects and also how good of a deal it is, price-related.
Being the 2023 winner of the Women's Choice Award, a lot of women decided to work with it to create unique clothes and designs. To be 100% sure of your decision, I recommend you to read its manual first.
Also, watch the video below and understand how well the Brother SE400 can perform.
2. SINGER Heavy Duty 4423 Sewing Machine
(Best Heavy-Duty Sewing Machine for Clothing Creation)
When making clothes, some heavy-duty materials will need to be handled. So, if you work frequently with denim or leather, you will need an appropriate sewing machine. The best one I can think of, for this purpose, is the Singer 4432.
With a 1100 spm sewing speed, this model will sew its way into multiple layers of jeans with no issue, giving you the possibility to create unique jeans. To name only a few of its features, the 4432 model comes with 32 stitches, including a one-step buttonhole and an adjustable presser foot pressure.
A very helpful aspect of this sewing machine is given by the SINGER Sewing Assistant App. Every time you have a problem, you can access the app for aid.
Pros
More than fair price;
Great customer support;
Portable;
User-friendly.
Cons
You may need extra light;
Not all the stitches hold.
Personal opinion:
With a not-so-common design, the Singer 4432 sewing machine works great on thick fabrics, allowing you to create clothes that involve heavy-duty materials. Also, it is very portable, meaning you can travel with it when needed.
I would have liked better results on canvas, but since it is available at such a good price, I can't ask for a professional outcome.
Check out the video below to see this sewing machine in action:
3. Brother CS6000i Sewing and Quilting Machine
(Most Portable Sewing Machine for Making Clothes)
If you are looking for a sewing machine that is portable and great for clothing creation, then you don't need to look further than the Brother CS6000i sewing machine. It is extremely user-friendly, it is great for beginners and is also loaded with features, such as 60 built-in sewing stitches, including 7 one-step buttonholes.
The CS6000i sewing machine offers the possibility of browsing through the settings with the help of an LCD screen. The last thing I want to mention about it is that it has a sewing speed of 850 spm and you can control the speed anytime you want.
Pros
Easy to use;
2010's winner of Women's Choice Award;
Great quilting results;
Good value for money.
Cons
It has a plastic case;
Doesn't provide automatic tension.
Personal experience:
The Brother CS6000i didn't win the Women's Choice Award in 2023 without a reason. It is very user-friendly, can become everybody's best friend when creating clothes, it has a very good price and it is portable. What more can you want from a sewing machine?
Watch the video presentation below and learn how to set up this product:
4. SINGER Quantum Stylist 9960 Computerized Sewing Machine
(Best Number of Stitches)
When choosing the right sewing machine for your needs, you need to take into consideration a lot of aspects, such as the number of built-in stitches. If this is the feature that you are most interested in, the 9960 from Stringer, is the right choice for you.
With 600 built-in stitches, 5 fonts and an 850 spm sewing speed, this model will turn your clothing design into a dream come true.
This sewing machine comes with lots of features, but I will let you discover them by yourself. What I want to mention is that the 9960 comes with a Needle Up/Down feature and speed control, that will make your working process much easier.
Pros
Excellent stitches;
Very useful light;
An amazing diversity of stitches;
Various accessories.
Cons
Not good for beginners;
You can't save the custom patterns.
Personal opinion:
As I previously said, the Singer 9960 is the best choice for you if your main concern, when making clothes, is the number of built-in stitches. However, if you are at the start of your learning curve, you will find this model not very straightforward. Please, take your time and read its manual and try to understand more about what this product can deliver.
Check out the following tutorial and learn how to use the the Singer 9960 sewing machine properly:
5. Janome 8077 Computerized Sewing Machine
(Best for Sewing Clothes for Your Family)
If you sew clothes for pleasure or for your family, you won't need a very big number of stitches, you just need the basic ones. So, Janome 8077 sewing machine is the perfect pick for a loving mom or wife that wants to dress up her family.
With 30 stitches, including 6 one-step buttonholes and multiple other features incorporated such as a helpful free arm, this model will make wonders on your family's clothes.
Pros
Good value for money;
Can be used by any sewer, regardless of its skills.
Personal opinion:
There isn't much that can be said about the Janome 8077. It is a very good machine, returns great results and I think that it is perfect for a person who sews clothes for the family members.
I would have liked it to be a little more lightweight, but I don't think that others will necessarily have the same issue as me.
6. SINGER 7258 Computerized Sewing Machine
(Best Value for Money)
The 7258 model from Stringer offers a variety of 100 built-in stitches, including 6 different buttonholes styles from which you can choose.
Other great features that this model offers are its LCD screen that will help you to pick the stitch's length and width, but also a Free Arm that will help you very much when hemming.
Pros
User-friendly;
Offers a great number of accessories;
It is not noisy.
Cons
Doesn't deal great with heavy-duty fabrics.
Personal opinion:
I think that if you make clothes for a hobby you won't need to buy a very sophisticated sewing machine. You need one that will suit your needs and will also come at a decent price. This is why I consider the Singer 7258 sewing machine to be the best value for money. It works great and costs the exact amount that it should.
It is compact and portable, meaning that you can take it with you when you travel. Also, it will do wonders when hemming pants or small clothes for children.
It is user-friendly, so it can be handled by mostly anyone, but I recommend you to read its manual before buying it.
Click on the link below and watch a related video with this sewing machine to understand more about how it works.
7. Juki HZL-F600 Computerized Sewing and Quilting Machine
(Best for Quilting)
If you do a lot of quilting clothes, then you will love this sewing machine from Juki. The HZL-F600 model comes with 225 stitches, that include 16 professional buttonholes but also 4 lettering fonts.
With a sewing speed of 900 spm, a maximum zigzag width of 7 mm and a maximum stitch length of 5 mm, this sewing machine will turn your quilting technique at a whole new level.
The HZL-F600 model also comes packed with accessories such as 4 Bobbins and a Wide Table, but if you feel like it, Juki offers an optional range from which you can choose.
Pros
Great for quilting;
Many accessories.
Cons
Pricey;
Not the best for beginners.
Personal opinion:
I think that Juki is great with every sewing machine that they produce. They offer premium quality and because of this, the price is not the most friendly.
However, if you are looking for a sewing machine that will help you to quilt clothes, there is no better one than this.
Please read its manual before making any purchase. Check out the presentational video below and see how the HZL-F600 model from Juki operates.
8. Janome DC5100 Computerized Sewing Machine
(Amazing Memory Capacity)
The DC5100 model from Janome has a very elegant design, but this is not its only property. It offers a selection of 167 built-in stitches, including an alphabet and also 5 one-step buttonholes.
For easy usage, this sewing machine comes with an LCD touchscreen that will help you pick the stitches you want to work with. It has a high speed that the advanced users will enjoy – 820 spm.
However, the best characteristic of the Janome DC5100 sewing machine is its programmable memory capacity.
Pros
It is a silent sewing machine;
Great memory capacity;
Offers a wide diversity of stitches.
Cons
Doesn't have multiple monogramming fonts;
Doesn't work best with heavy-duty materials.
Personal opinion:
This model is a very good one and even though it costs a little more than others it deserves its cost.
It is very user-friendly, returns great results and most importantly it has a memory capacity that can save up to 50 patterns.
9. Brother 1034D 3/4 Thread Serger
(Most Lightweight Sewing Machine for Making Clothes)
First of all, the Brother 1034D sewing machine is a beauty. Luckily, her good looks are also combined with great features. This sewing machine comes with 22 built-in stitches that can be sewed at the amazing sewing speed of 1300 spm.
This model was created to help you work well on edges and hems to an impressive variety of materials. You can even work on formal wear.
The 1034D from Brother has multiple characteristics, but I will only mention a few and let you discover the rest. It comes with a 3 thread overlock, a 4 thread overlock and even with ribbon lock stitches.
Pros
You can create fancy clothing;
Professional results;
Great design;
Extremely lightweight;
Amazing price.
Cons
Requires frequent maintenance;
Not the best choice for beginners.
Personal opinion:
I must confess, that the Brother 1034D sewing machine was on my shortlist for the editor's choice and that every time I see it, I fall in love.
It has all the features that I need to find in a sewing machine designed to create clothes. What it made me not pick this as my ultimate favorite was the fact that it needs frequent oiling and I am not very good at maintenance.
Watch the video below to understand more about the Brother 1034D.
10. Brother Project Runway CE7070PRW Computerized Sewing Machine
(Best for Couture Clothing)
If your dream is to become a fashion designer then you should start by purchasing the correct sewing machine and there is no better for couture creation than the CE7070PRW from Brother and Project Runway™.
Not only that it has a very good price that is affordable for a person who is at the beginning of the road. It offers 70 built-in stitches, that include 7 one-step auto-size buttonholes but also other decorative or quilting stitches.
The selection is easily made by using its LCD screen and it can sew at 850 spm speed.
Pros
Great price;
Premium results.
Cons
Doesn't have speed control.
Personal opinion:
This sewing machine made by Brother and Project Runway™ is the perfect choice for every wannabe fashionista. It is not expensive and you will get premium results from it.
Just to add a minus in the discussion, I would have liked a speed control, but that is the only bad thing I have to say about this product.
11. Janome Magnolia 7318 Sewing Machine
(Editor's Choice)
My editor's choice of the article is the Janome Magnolia 7318. It comes with 18 built-in stitches, including one four-step buttonhole. Other features include a Free arm and an Extra high presser foot lift.
It is extremely easy to use, offers incredible precision and premium results, all at a very good price.
Pros
Great for both beginners and advanced users;
Portable;
Really good value for money.
Cons
Comes with few accessories.
Personal opinion:
You might wonder why I've chosen the Janome Magnolia 7318 model to be my editor's choice. Even though it doesn't offer a great stitch variety, such as others, it has everything you need to sew clothes and most importantly, it offers premium quality at a low price.
Check out the following video to understand why this is my favorite sewing machine for making clothes.
12. Brother Project Runway CS5055PRW Sewing Machine
(Budget Pick)
Another great product for making clothes that is from Brother and Project Runway™ is their limited edition CS5055PRW. It is a computerized sewing machine that comes with 50 built-in stitches that include 5 styles of auto-size buttonholes.
For easy browsing through the stitches, this model offers an LCD screen, while for easy working, you can use its LED light.
You can sew silk, cotton or even denim with it and you can buy at the best price there is available for a good sewing machine for making clothes.
Pros
Amazing price;
Great results.
Personal results:
This model, the CS5055PRW sewing machine is the best choice if you are on a budget. There is no other cheaper machine that can give you such great results.
It is easy to use, can work on multiple fabrics…what more can I say? It is great and this is probably why it won the Women's Choice Award in 2023.
Watch a short video with it and decide if it is what you are searching for or not.
The 5 Types of Sewing Machines for Making Clothes
Luckily, the modern world is giving customers so many choices when it comes to shopping. The continuous development of the technology is good, as long as brands try to meet every expectation of the little or professional sewers. So ask yourself first some questions.
Are you new or an expert in this domain? Do you want a sewing machine just for fun and for your hobby or are you going to make some improvements to your skills and really tailor some clothes?
Once you have set your priorities and sort them out, it's time to check the main types of the sewing machine. Although it might seem a bit overwhelming, it is not so hard to choose the right one. Just pay attention to your specific needs and also to the features a sewing machine comes with.
Manual Sewing Machines
The most basic type of sewing machines is the manual one. It can operate by using a foot pedal. Most of the manual machines come with built-in stitches, so it will be easy for you to customize the garments. This is a very suitable sewing machine for beginners.
Automatic Sewing Machines
This type of sewing machines is not so different from the previous ones. The only plus is that they are fully automated. You can stitch on autopilot using this type of sewing machine and not worry about the thread tension. For those who are looking for a more modern sewing machine, this is the one.
The automatic sewing machine is great for both beginners and intermediate passionates about sewing.
Computerized Sewing Machines
Now, we go to the next level and talk about the modern computerized sewing machines, which come with more built-in stitches than the others. Some of them have up to 600 various options. More than that, if you will buy a computerized sewing machine, it will be possible to connect it with your computer and download patterns from the internet.
When choosing one of these types of sewing machines, make sure you have a USB port and one-touch stitch feature.
Embroidery Sewing Machines
Do you love patterns? If you are passionate about realizing good embroidery, then an embroidery sewing machine is a must, especially if it has monogramming functions. This kind of sewing machine is mostly used for customizing sewing items together and for personalizing clothing with your own models.
Overlocker
This is a very particular function, as the overlocker is the feature that makes hems by trimming the material and then sewing the hem step by step. However, for those who are at the very beginning of sewing, this function is not crucial. This particular feature is mostly used for commercially designed garments. The overlocker feature is useful at some point when working with knitted, stretchy and other thick or stubborn materials.
How Does a Sewing Machine Help You Create Your Own Clothes?
Maybe you don't want to hear this, but for making good quality clothes, you may need a modern sewing machine. There are lots of benefits while having this type of mechanism, whether you are a beginner or an intermediate user looking for improving the sewing skills.
Investing in a good sewing machine comes with lots of benefits. However, this depends on the skill level and expectations, as well as the budget for this kind of investment. One thing is for sure: if you love sewing, it's time to make an upgrade.
The sewing machines for making clothes can make sewing a dream come true and boost everyone's creativity. The main benefit of this kind of mechanism is fast speed while sewing. If you are used to make clothing by hand-stitching, now the regular machine will allow you to accelerate the process of sewing and create collars, cuffs or hams.
Another important benefit of the sewing machines for making clothes is the chance it gives you to make custom fashion items. It is such a hot trend to open a home-based sewing business, especially if your creativity is so special. You can transfer all your ideas into clothes and turn a hobby into a real profitable full-time job. So, the sewing machine is the most important pawn in making all this real.
Surprising everyone with personalized clothing items is not the only special thing. You can create your own blankets, children's clothing, bags, or hats. Also, you can redesign the old clothes using a sewing machine for making clothes. Owning this kind of mechanism has no disadvantages, as long as you learn how to choose the right one.
The price is more friendly than at the professional sewing machines. As long as you are looking for the features that you need, you can find sewing machines at really good prices.
Which is The Best Sewing Machine for Making Clothes?
There is no perfect model to choose from, but the one that suits best your needs. Now, first and the most important detail to pay attention to is the bobbin, but also everything from threading the needle, to how fast is the sewing. Each detail is important to make the sewing process to be a real pleasure.
Always search for options that contain a fast application of bobbin. Look for automatic sewing machines, that don't require a custom bobbin. Then remember that a good quality sewing machine comes with front-facing eyes for needles.
All these options make threading faster and save time. Quality sewing machines are not really light, but not so heavy as some might expect. As long as you want to obtain good quality cloth designing, you need to know that the machine can be a little heavy, to provide stability.
The Most Important Features to Look for In a Sewing Machine for Making Clothes
Before buying a sewing machine for making clothes, it's important to count all the advantages and disadvantages that a machine of this type comes with. So, considering this, let's see which are the features that should come with the product and how they can improve your work.
Skill Level
When deciding to buy a sewing machine for making clothes, I think the most important part is to analyze your sewing skills. Are you a very beginner in making clothes on your own? Or you are already an expert in designing future fashion?
Because, for instance, if you are a professional sewer, it's time to make an upgrade and look for an advanced model of this product. On the other hand, if you are a beginner, look for the sewing machines for clothes that are easy to work with.
Simple instructions are always the best ones. And if you want to become easily an intermediate sewer, then give your sewing machine the chance to grow along with your skills. If you are going to turn your hobby into a home-based business, you can choose a model that has the ability to upgrade.
And why not, if you love challenges, although you are a beginner, you can choose a more advanced model of sewing machine for making clothes that will give you lots of sewing options. But try to not buy a too advanced model, as you might end up being frustrated.
Portability
Did you prepare a certain spot for the sewing business? Or contrary, you would prefer a light sewing machine, that you can take with you wherever in the house?
I would recommend, in the first instance, to buy a sewing machine for making clothes that is portable. You should be able to put away the machine when you are done sewing, so a light one would be great.
If you have already thought about a special corner where sewing every day, then you should not focus on portability anymore. Portability is a determining feature as long as you are changing homes or redesigning the sewing space. But if none of these matter to you, then look for an advanced model of sewing machines, heavier, but better than a regular one.
Type of Sewing Machine for Making Clothes
The type of sewing machine is more important than anything. Are you looking for a computerized sewing machine? Or a mechanical one? Just remember that the most modern sewing machines are electronic these days. And yes, the simple ones are cheaper.
The computerized sewing machines are great, but they might be overwhelming for beginners just how the manual sewing machines are too rudimentary for the experts in sewing.
It's true, of course, that the computerized sewing machines come with lots of advanced functions and features, but if you are at the very beginning of sewing clothes, I recommend starting with a simple model and then, by time, upgrading this one. The mechanical machines are more affordable and come with basic features that do their work perfectly.
However, it really depends on everyone. The personal preference is the one that dictates the future purchase. Just make sure the machine comes with buttonholes, straight stitches, and zigzags.
Speed Settings That are Adjustable
One of the most important things you can do while sewing clothes is controlling the speed. It matters so much adjusting the speed, as it will make your life as a sewer so easier. This way, you will be able to speed up or slow down the stitch speed exactly as you wish, depending on what you are working at.
Number of Stitches
Look for the models that offer around 6-20 stitches, if you are a beginner. If not, feel free to choose the advanced sewing machines with hundreds of stitches.
If you are going to make complex clothing, with lots of details, choose a sewing machine that comes with advanced stitching options and can handle stubborn materials.
Warranty
Let's be honest, nobody wants to pay a lot for service. Popular brands such as Singer, Juki, Brother or Janome come with a 20-25 years warranty. Other less popular brands offer just a 1-year warranty or maximum 2. Before investing in a sewing machine for making clothes, be sure it comes with a special warranty. Ask the seller about this topic.
Buyer's Guide
Opening your own sewing clothes business is such a great thing. As long as you know how to prepare your tools. The sewing machine for making clothes should be chosen following these very easy steps:
Brand: I won't hide this opinion. When you want good quality products, you should invest in good quality tools to obtain great clothes. If I were you, I would go for popular brands, that guarantee their products, offer a warranty and have great reviews from their customers. In my reviews above, you will find some of the best models of sewing machines for making clothes.
Needle position: This feature enables you to reposition the needle according to the project you have. This option is great while sewing zippers or doing topstitching.
Price: Look for the models that go with your budget. You can find great models of sewing machines, from popular brands, that can have smaller prices. Indeed, the features might be fewer, but enough to let you do your work.
One-step buttonhole: Instead of going for a four-step buttonhole that is more complicated and time-consuming, I would recommend the one-step buttonhole. This feature will help both beginners and newbies.
FAQ
Last Thoughts and Personal Experience
If you already have experience with opening your own clothing business, leave a comment and tell me which is the sewing machine that helped you from the very beginning. I'm curious to find out about your opinion.
Now, from my experience, choosing the best sewing machine for making clothes depends on everyone's skills, preferences, and future work they are going to do. Luckily, there are so many models on the market that will suit any will.
Check the comparison chart I did, and also the comprehensive reviews with pros and cons. This way, it will get so much easier to find the perfect tool to make great clothes.
Just to wrap it up and make a short recap, I will recommend you this:
Use the Brother Project Runway CE7070PRW model for couture clothing;
Use the Brother CS6000i model if you are travelling a lot;
Use the Janome Magnolia 7318 if you just want a very qualitative machine that is bound to be there for you no matter what.
Spread the word and share this article with your friends that are also passionate about fashion clothes.